LaCie bigs up 5big array: Desktop hot storage box gets fatter drives
Thunderbolting array capacity now 40TB
LaCie has upped the capacity of its 5big storage for professional workstation users to 40TB by moving from 6TB to 8TB disk drives.
This Seagate subsidiary positions the desktop, 5-slot 5big with dual Thunderbolt 2 connectivity and hardware RAID as capable of supporting 4K video workflows. It has a bandwidth of up to 1,050MB/sec, the disks are enterprise class, spinning at 7,200rpm, and the unit is rated for 24 x 7 operation.
It has a hardware RAID controller, with levels 0, 1, 5, 6 and 10 supported, as is a JBOD mode. The drives are hot-swappable, and data won't be lost in protected RAID modes when they are swapped.
LaCie says the bandwidth is enough for connected Final Cut Pro or Adobe Premiere users to be working on several 4K video streams at once and see native 4K edits in real time.
With the Thunderbolt connectivity up to six devices can be daisy-chained to a host computer.
The drives come in a plain oblong and seamless aluminium enclosure with a great, unseeing lit-up blue eye on the front; it is a Neil Poulton design, featuring a quiet fan and what are described as jumbo heat exhausts. The mind boggles.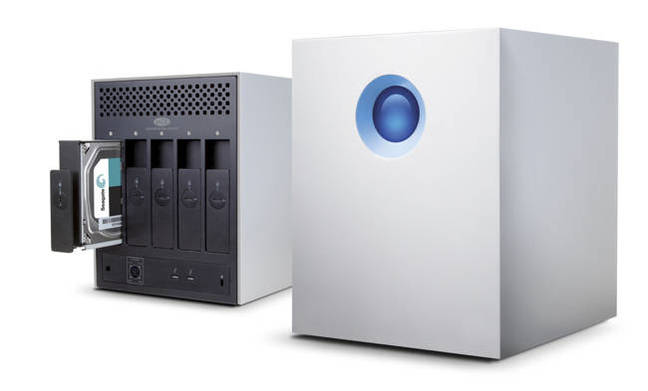 LaCie 5big front and back. Note the blue "eye" and "jumbo heat exhausts."
There is a five-year warranty too, covering drives, enclosure and spare parts. Check out the specification here. The 40TB 5big will be available later this quarter through LaCie resellers and its online store.
Currently a 10TB LaCie 5big costs around £1,000 on Amazon. A 20TB unit costs $1,999.00 on the BHP photo video site. ®