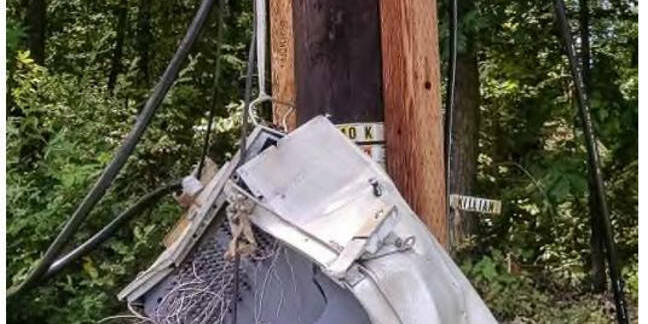 Verizon is taking heat in two US states over reports its cable lines have become dangerously neglected.
Officials in Pennsylvania and New Jersey are investigating complaints that the copper lines serving Verizon's DSL and phone services are posing a safety hazard as the wiring, poles and boxes under Verizon's care have not been properly maintained.
In Pennsylvania, a labor union filed a complaint with the state's Public Utility Commission alleging that the telco has not been taking proper care of its non-fiber lines, including failing to remove broken utility poles, letting wiring hang dangerously low to the ground, and letting the cabinets of cable boxes become broken and in some cases infested with animals.
The complaint alleges that Verizon is ignoring the areas where it does not have its FiOS fiber lines running in favor of the newer, more profitable fiber-to-home network.
"For many years, [Verizon Pennsylvania] has intentionally failed to maintain its physical plant in non-FiOS areas of the Commonwealth," the Communication Workers of America said in their complaint.
"The state of deterioration is now so advanced that poles are literally falling over, cables are sagging to the ground, animals and insects are infesting broken wiring cabinets, and the safety of VZPA's employees and the public is being jeopardized every day."
In New Jersey, meanwhile, a similar set of complaints surround the maintenance of Verizon's lines in the rural southern parts of that state. Like Pennsylvania, the areas of New Jersey in question are largely served by copper cables rather than FiOS and, similarly, are said to have been largely ignored.
"The failure of Verizon to properly maintain its copper lines in this region of the state has led to telephone interference and, at times, completely inoperable landline and Internet service," state senator Jeff Van Drew said to the Press of Atlantic City.
"These problems are not only an inconvenience, they are causing public safety and quality-of-life issues and require action."
Verizon said it will be present at an upcoming New Jersey Board of Public Utilities hearing on the matter.
"We are aware and will be there to hear from our customers," a spokesperson told The Reg. ®
Sponsored: Ransomware has gone nuclear