Life's three certainties: Death, taxes and Salesforce losing money
Perhaps we could add the CEO's charity work to that too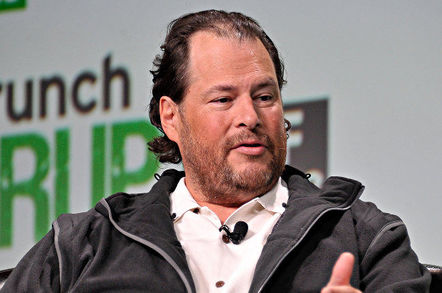 Three things in this life are certain: death, taxes, and SaaSy player Salesforce reporting losses. And so it has come to pass that another quarter has gone by and CEO Marc Benioff's biz is still finding ways to burn cash.
For the three months ended 31 January, the online software slinger reported revenues of $1.809bn, up 25 per cent year-on-year.
Ever the understated, retiring type, Benioff told analysts on a conference call, "Look, my number one thing I want to tell you is, this is the absolute best quarter we have ever had, way beyond our expectations".
Broken down by product unit; Sales Cloud grew 12.3 per cent to $708.9m; Service Cloud was up to $495.3m from $367.1m; App Cloud and other jumped 42.5 per cent to $294.5m; and Marketing Cloud was $184m, up 31 per cent.
Deferred revenue jumped to $4.3bn and 88 per cent of billings in the quarter for subscription and supported related invoices were annuity based.
Operating expenses also went up, jumping 19.7 per cent to $1.34bn, including big leaps in sales and marketing costs, nearly 22 per cent more spent on R&D and a rise in general and admin overheads.
Operating profit of $20m, compared to an operating loss of $34.8m in the prior year period. Interest, "other" expenses, and tax pushed Salesforce to a net loss of $25.5m, versus a loss of $65.7m
In typical fashion, Benioff used the call to attack rivals and discuss his charity work, but this was only because he was pressed by information hungry analysts, and not, er, because he was talking himself up.
For the year, Salesforce ominously reported revenues of $6.66bn – the number of the beast – which was up 24 per cent year-on-year. After expenses, tax and interest payments were totted up, the company reported net losses of $47.4m, versus a loss of $262.6m.
El Reg wonders if Salesforce investors view Benioff's charity work in quite the same way as the man does - this might change over time as the company has told Wall St it expects to break even this fiscal '17.
The New York Stock Exchange reacted well to the results with the share price rallying nearly ten per cent to $68.45 at the time of writing. ®
Sponsored: Minds Mastering Machines - Call for papers now open