Carolina cop cuffed for 'carjacking'
Weapon cocked while eyeballing mobe smut, police affadavit claims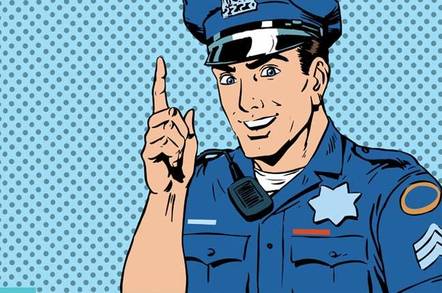 A former South Carolina cop has been arrested and charged with "Misconduct in Office" after allegedly pleasuring himself in his patrol car while eyeballing smut on his mobe.
According to WISTV, Marshall Lee Hardin was in his vehicle next to Woodward Park in Camden, some 40km northeast of state capital Columbia, when he decided to take a quick relief break from law enforcement duties.
The South Carolina Law Enforcement Division (SLED) affadvit says that "on or about December 13, 2015", Hardin was "watching adult pornography on his personal cell phone while rubbing his penis through his uniform pants".
It continues: "After a period of time, Hardin exited his marked patrol car and pulled his penis out of his uniform pants to 'stroke his penis two times'."
Mercifully, the hardened officer decided to spare the public the money shot, and "put his penis back in his pants and went into the restroom in the public park to finish ejaculating".
The WISTV report notes that the affadvit doesn't indicate "how Hardin's alleged actions became known to law enforcement".
If found guilty, the Hardin faces a possible 10 years' jail time