Verizon <3 XO xoxo: $1.8bn network gobbled
Fiber deal will be used to bolster enterprise services and phone network
Verizon has agreed to purchase the fiber network branch of XO Communications for $1.8bn.
The deal, which is set to be finalized early next year, will give Verizon control over XO's fiber and ethernet divisions, with an additional option to purchase XO's wireless spectrum holdings when Verizon's current lease with that business wraps up in 2018.
Based in Virginia, XO maintains a nationwide fiber network, offering both voice and data services to companies.
The XO network will be folded into Verizon's own enterprise network services business, with additional fiber pipelines for companies that subscribe to Verizon business services.
Verizon says it will also be using XO's cables and fiber facilities to "densify" its mobile networks.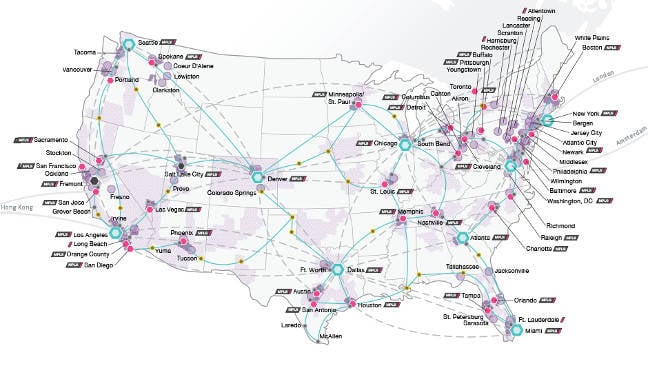 XO's fiber network and facilities in the US
Verizon will purchase the business from activist investor Carl Icahn, who has been buying up shares in XO since 2001 and helped the company emerge from bankruptcy two years later. Icahn acknowledged that his time at XO has been a "bumpy road" that concludes with the Verizon deal.
"Although this sale to Verizon does not represent a significant annualized return on our investment, we believe that in today's environment it does represent the best achievable outcome for the company's customers, employees and owner," Icahn said of the sale.
Until the deal completes, XO said that it will continue to operate the networks independently and continue its services.
Verizon, meanwhile, will look to continue an overhaul of both its consumer and enterprise business units to shift focus toward the more profitable sides of its business, including a sell-off of some of its consumer ISP operation to Frontier Communications and a rumored sale of its data center and colocation business.
Verizon also continues to be tied, via its Aol holding, to a possible acquisition of Yahoo!'s core search and advertising business and an integration with Aol as a combined online media network. ®