Between you, EE and the lamppost ... this UK cell network is knackered
Data, calls TITSUP for over half the day – total inability to support usual PDP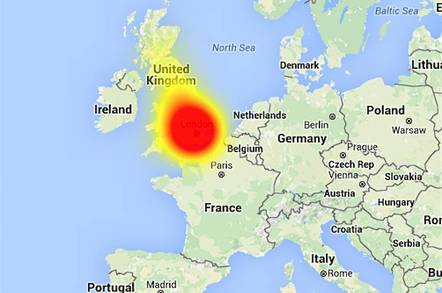 Updated UK cellphone network EE has struggled to provide a decent service to Brits for most of today.
Folks have complained for several hours that they've been unable to make calls or download stuff from the internet using their smartphones. EE's customer service has blamed a "PDP failure" for inconveniencing "a small percentage" of people.
"We are currently working to resolve the issue," the telco said this evening.
Funnily enough, there is one thing still working at least: EE was able to text people today warning them that their tariffs are going up in March.
EE is the largest mobile operator in the UK with about 30 million subscribers, and is owned by BT. EE has had repeated trouble with PDP (Packet Data Protocol) context screw-ups, which are usually flagged up as "PDP authentication failure" error messages on handsets.
These contexts are vital in modern phone networks as they are used to authenticate subscribers and connect their devices to IP networks and the internet. So, basically, if the systems handling PDP break down, your mobile is going struggle to get connectivity to the wider world.
Outage monitoring website Down Detector has received a shedload of complaints from Brits today. "No internet since 3pm in Bromley, Kent," says Sharon. Shariq adds: "No data in Manchester since 3pm." Jennyfer reveals: "No internet in Glasgow, showing a PDP problem. Driving teenage daughter mad." Michael in Surrey reports: "Keep getting call failed but still able to use text messages, etc." And so on.
Reg reader Chris told us this evening, London time: "Since about 13:30 today it looks like people have been reporting issues with connecting to their 3G and 4G networks. I have three devices disconnected at the moment, and others I know have the same problem.
"A customer support representative I just spoke to told me that they'd had no systems in their call center this afternoon, and she was talking about them 'bringing another data center online'. Of course, this could be misinformation and who knows what's really going on.
"They've told me it will be fixed 'by the end of the day' – let's see how close it is."
People on Twitter aren't too happy, either:
@EE haven't had any signal since lunchtime today, but service status says no faults? Post code area AB41

— Kirsty Johnstone (@Kirsty_M_J) February 23, 2016
@EE what's up with ur network phones not worked on 4g data for couple of hours now it's starting to bug me

— john thorp (@Thorpy1212) February 23, 2016
@EE Thanks. Looks like a complete failure of data services in some areas and intermittent elsewhere. Lets hope it's fixed soon?

— Chris Skinner (@cjs2000) February 23, 2016
@ee what is going on?! Last 2weeks your data signal around this time in central Edinburgh is pathetic. 4g but no data. What am I paying for?

— Ian Irving (@scotduggy) February 23, 2016
Etc.
A spokesperson for EE was not immediately available for further comment. ®
Updated to add at 0930 GMT February 24
An EE spokesman has been in touch to apologize, blaming a power failure for Tuesday's outage:
Data services were affected for a small number of customers after one of our data centres experienced a power cut yesterday afternoon caused by a third party. We immediately re-routed traffic to minimise disruption, and service was restored within a few hours.

If any customers are still experiencing connection issues, they should switch their device off and on, or enable and disable 'Airplane Mode' to resolve the issue. We apologise for any inconvenience caused.