Poor Azzurri. Another year gone and profits still elude them
But what's that you say? Green shoots emerging? Definitely, maybe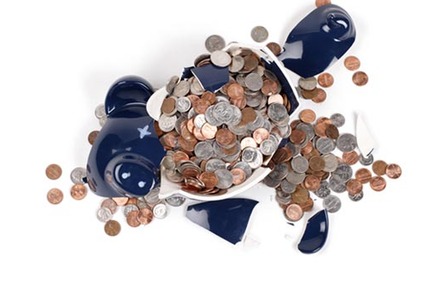 Restructuring, amortisation and poor demand for large specialised call centres kept sales growth and profits beyond the reach of Azzurri Communications, its latest P&L accounts have revealed.
The Weybridge-based firm reported a three per cent dip in revenues to £101.2m for the fiscal year to June 2015.
It blamed "regulatory and volume-driven declines in calls & lines, price erosion in data and reduced on-premise systems sales [that] partially countered by growth in mobile".
Much focus in the year was spent on the ICON Connect, a converged connectivity system, and the Comms Services Manager and Enterprise Mobile cloud services as punters "shift from buying on-premises" kit.
Purchase orders for cloud-based data network services and unified comms were up 16 per cent equated to 40 per cent of total order intake, up from 32 per cent in the fiscal '14.
Overheads went up to £16.81m from £15.69m. This included admin expenses, exceptional costs for restructuring and amortisation, and caused an operating loss of £2.22m – versus an operating loss of £1.5m in the previous year.
Finance costs of £3.74m resulted in pre-tax losses of £5.96m, compared to a profit of £51.96m in the prior year when the bottom line was flattered by a £58m inter-company loan. A tax benefit of £460,000 led to a net profit of £5.4m, compared to £52.9m.
Azzurri is no longer on the list of endangered species held by powerful people in credit circles, after a syndicate of banks backing the firm wrote off debts of more than £280m in recent years.
The company ad grown fat by making numerous acquisitions under a previous management team, but debts spiralled out of control and without the write down, the business may have collapsed.
The net debt for fiscal '15 fell to £44.8m after Azzurri paid down £3m worth of interest bearing debts to £22m, the company confirmed.
Headcount fell from 613 people to 534, down 13 per cent but since July 2013 the workforce has shrunk 20 per cent. This was a "reflection" of serving customers remotely rather than on-site "along with other efficiency gains". Four properties were exited in the year.
It seems that CEO Chris Jagusz has had a stabilising impact since he took over the company in September '14, but no doubt this will lead to industry chatter that the bankers may see this as the right time to seek a buyer. ®
Sponsored: Minds Mastering Machines - Call for papers now open