NASA stormed by 18,000 wannabe 'nauts
Record number of applicants for 2017 class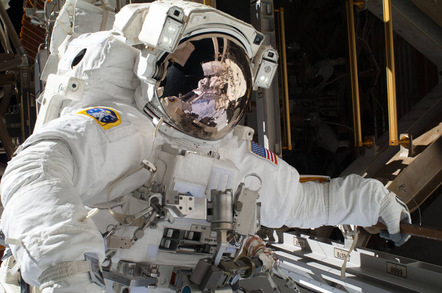 NASA has received a record 18,300 applications for its 2017 astronaut class, "almost three times the number of applications received in 2012 for the most recent astronaut class, and far surpassing the previous record of 8,000 in 1978".
Once the space agency has sifted through the application mountain, it'll invite the best prospects for an interview at Johnson Space Center in Houston. From that shortlist, just 8-14 wannabes will ultimately be selected for two years' astronaut training, at the end of which they'll be assigned to either the International Space Station, Boeing's CST-100 Starliner, the SpaceX Crew Dragon or NASA's Orion capsule.
NASA head honcho Charles Bolden, keen to stress his country's progress towards re-establishing a manned spaceflight capability, said: "It's not at all surprising to me that so many Americans from diverse backgrounds want to personally contribute to blazing the trail on our journey to Mars. A few exceptionally talented men and women will become the astronauts chosen in this group who will once again launch to space from U.S. soil on American-made spacecraft."
Basic requirements to be considered for the astronaut programme include "a bachelor's degree from an accredited institution in engineering, biological science, physical science or mathematics", and "at least three years of related, progressively responsible professional experience, or at least 1,000 hours of pilot-in-command time in jet aircraft".
According to the "Astronaut Selection and Training" guide (PDF), the essential physical requirements are: "Distant and near visual acuity must be correctable to 20/20 in each eye, blood pressure not to exceed 140/90 measured in a sitting position, and the candidate must have a standing height between 62 and 75 inches."
The guide notes: "Final selection as an astronaut will depend upon satisfactory completion of the training and evaluation period. Graduation from the Astronaut Candidate Program will require successful completion of the following: International Space Station systems training, Extravehicular Activity skills training, Robotics skills training, Russian Language training, and aircraft flight readiness training." ®