Intel, Verizon et al loom over 5G, tapping their feet, coughing politely
Ready or not, here comes new wireless broadband push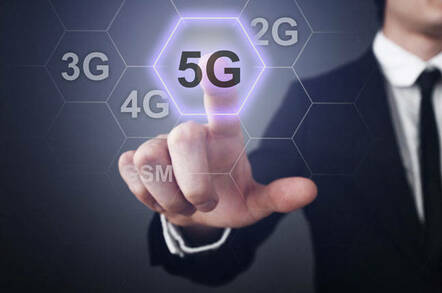 Intel, Verizon and Facebook are among the big names trying to advance 5G wireless broadband networks this year.
All three companies issued releases bigging up their respective efforts to build, test, and create content to shift around on the next-gen wireless broadband.
For Intel, the push is coming as a series of collaborations with other companies to build PCs and mobile devices with 5G connectivity. The chipmaker said it has enlisted the help of companies including Nokia, Ericsson and LG on projects to develop and test 5G hardware and networks.
"The transition to 5G brings communications and computing together and is a fundamental shift for the industry," Intel corporate vice president and communication and devices group general manager Aicha Evans said.
"It is essential to lay the foundation for future 5G networks now to make amazing experiences of the future possible."
Also jumping on the 5G bandwagon is Verizon, who revealed on Monday that it is testing its own 5G network – less than two weeks after rival carrier AT&T said it had begun field tests. Verizon says that its tests are looking to mimic real-world use cases for 5G networks in the millimeter wave spectrum band.
Verizon says it is aiming to go live with its 5G networks in 2017, while AT&T has set 2018 as its target.
"With 5G, we will again drive innovation across the technology landscape to bring new solutions to market for our customers," said Ed Chan, Verizon senior vice president of technology strategy and planning.
"Our field technical trials are proving that 5G is here and ready to be commercialized, and we've constructed several test beds that represent real-world environments."
And then there's Facebook, who says it is counting on 5G broadband networks to support its push into virtual reality. The House of Zuck said that its Telecom Infra Project would link up telco service providers to develop and test 5G networks.
Facebook says that the effort, modeled on its Open Compute Project, would create a set of open reference designs and blueprints for building 5G networks that will be compatible with hardware and software platforms, including Facebook's own Oculus.
"In what is a traditionally closed system, component pieces will be unbundled, affording operators more flexibility in building networks," wrote Facebook global head of engineering and infrastructure Jay Parikh.
"This will result in significant gains in cost and operational efficiency for both rural and urban deployments."
These efforts come despite looming skepticism that 5G will be catching on any time soon. A recent report from Cisco predicts that most cariers won't start serving up 5G service on a large scale until around the year 2020. ®