IBM tailors Swift for cloud, gets into bed with VMware, Github
'Cause the haters gonna hate, hate, hate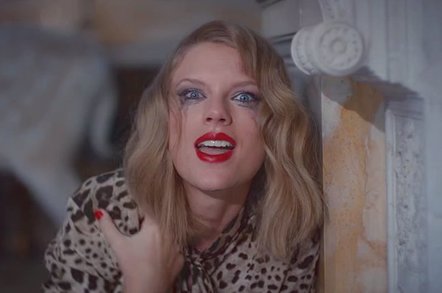 Big Blue has used its IBM InterConnect conference in Las Vegas to announce cooperative deals with Apple, VMware and GitHub, as the venerable commuting giant seeks to suck in more cloudy business.
"Businesses are adopting cloud-based applications to accelerate innovation, but they are still struggling to combine those cloud native services with existing apps and data which reside on-premises," said Marie Wieck, general manager of IBM Cloud Application Services.
"Our objective is to drastically simplify how developers discover and connect disparate apps and services, so enterprises can unlock the value of their existing IT and more rapidly capture the value of the cloud. This helps enable developers to discover and re-use the best capabilities, wherever they reside."
On the Swift side, IBM is expanding the Swift Sandbox announced in December to help coders use Apple's open source programming language in cloud instances.
They can also share and develop their designs in a new Swift Package Catalog that IBM will host, or write for Bluemix, IBM's platform-as-a-service system and run them in OS X and Linux on a new open source web server dubbed Kitura.
"Modern digital apps require a modern programming language. Swift is easy to learn, reliable, fast and interactive, the key traits that CIOs look for when building the next generation of enterprise mobile apps," said Michael Gilfix, VP of IBM MobileFirst Offering Management.
"Swift on the Cloud is an opportunity for enterprises to radically simplify the development of end-to-end applications and therefore reach new levels of productivity."
VMware
It's not just Apple feeling the love – there's a new deal with VMware that will bring the firm's software-defined data center architecture to IBM's cloud systems, along with the virty firm's vRealize Automation and vCenter management tools.
"This partnership, an extension of our 14-year-plus relationship with IBM, demonstrates a shared vision that will help enterprise customers more quickly and easily embrace the hybrid cloud," said Pat Gelsinger, CEO of VMware.
"Our customers will be able to efficiently and securely deploy their proven software-defined solutions with sophisticated workload automation to take advantage of the flexibility and cost effectiveness of IBM Cloud."
The two firms are also going to partner up on selling hybrid cloud services to enterprise buyers and will add VMware's vSphere, NSX and Virtual SAN to Big Blue's 45 worldwide data centers. These won't be on a pay-as-you-go tariff, but instead on a monthly-based consumption pricing system.
Teaming with IBM goes some way to explaining why VMware last month pulled the pin on its ambition to build a cloud capable of rivalling Big Blue's, or those of AWS, Google and Microsoft. IBM will give VMware scale and reach it could not afford to build, and therefore adds credibility to its hybrid cloud strategy.
But the tie-up will also raise eyebrows among the other, smaller, cloud operators VMware has courted as providers of hosted Virtzilla environments. Those outfits now have the biggest of big competitors, which has been handed a privileged position by their supplier/partner.
The deal's also curious in light of VMware's previous cloud strategy to pipe in services from other clouds. That plan started with Google storage services but has not, as expected, seen VMware pipe in services from other clouds as the company's one-time cloud Czar Bill Fathers promised us last year.
GitHub
GitHub too is getting into bed with Big Blue, with the code repository's pricey Enterprise offering now being hosted on IBM's Bluemix as a dedicated service for hybrid and private cloud users. As a bonus, IBM's security scanning engine will check customers' code for obvious flaws.
"Great software is no longer a nice-to-have in the enterprise, and developers expect to be able to build software quickly and collaboratively," said Chris Wanstrath, CEO of GitHub.
"By making GitHub Enterprise available on the IBM Cloud, even more companies will be able to tap into the power of social coding, and build the best software, faster." ®
Sponsored: Your Guide to Becoming Truly Data-Driven with Unrivalled Data Analytics Performance