EMC VxRack thrown on the review rack
Flies like a bird, sings like a plane, or the other way round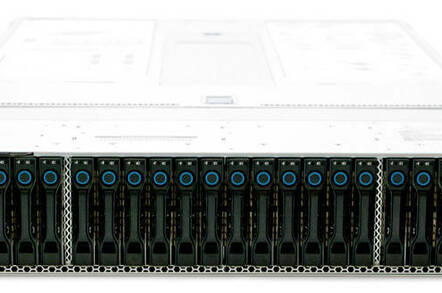 Storage Review has tested an all-flash EMC VxRack config and found it flies, beating X-IO's ISE-860 and, unsurprisingly, a hybrid Nutanix rig.
EMC announced its VxRack scale-out storage system in May 2015, with the smaller VSAN-based VxRail coming out yesterday.
The Storage Review test used a 4-node VxRack chassis with dual Intel E5-2680 V3, 12c, 2.5GHz processors per node, ScaleIO storage software, and 6 x 2.5-inch 800GB SSDs.
The testing software was MySQL Sysbench and virtual machines running in Dell R730 servers sent storage accesses to the VxRack. The test measured VxRack's performance in terms of transactions per second (TPS) and latency as the number of accessing VMs increased.
Chart one looks at TPS: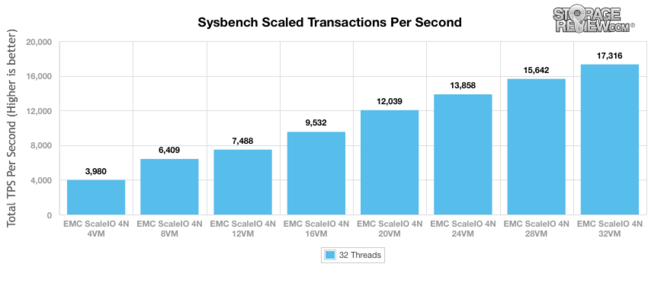 The TPS number scales linearly from 4 VMs (3,980 TPS) up to 32 VMs (17,316 TPS). Storage Review points out the 4 VM number is "a touch lower than X-IO ISE-860 SAN storage also configured with all-flash and about 60 per cent faster than a hybrid Nutanix 4-node configuration ... At 8 VMs ScaleIO closes the gap with X-IO ISE 860 with performance jumping to just over 6,400 TPS."
By 12 VMs it had passed the X-IO machine, and left it behind after 16 VMs.
VxRack has good, to say the least, throughput, with Storage Review using the word "incredible."
Next the testers looked at MySQL latency: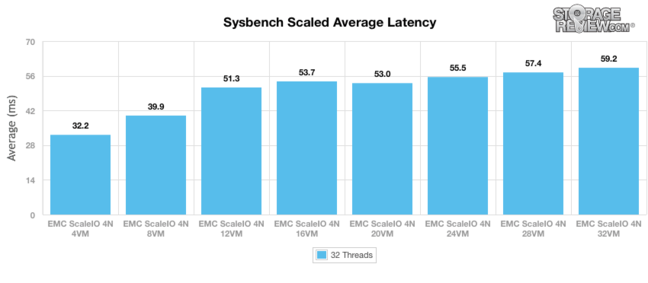 Average latency varied from 32.2ms at 4 VMs to 59.2ms at 32 VMs, and was about flat between 12 and 32 VMs (51.3ms – 59.2ms). That is welcome consistency under load.
The X-IO ISE 860 measured 29 and 39ms respectively at 4 and 8 VMs. After that it was left behind again. It will be absolutely fascinating to see how an all-flash Nutanix rig copes in the same test, if Nutanix has the cojones to expose its product to Storage Review in an unfettered way. Ditto Simplivity. We understand X-IO has new all-flash product coming by the way. ®
Sponsored: Detecting cyber attacks as a small to medium business