HPE StoreServ flash capacity boost coming
Near enough 8TB SSDs on the way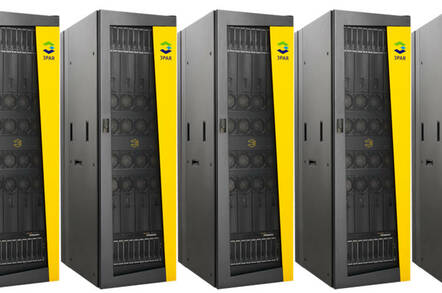 At a briefing with HPE's Chris Johnson, VP and general manager for EMEA, we found out that the company's 3PAR arrays are in line to receive a flash capacity boost to around 8TB per SSD.
EMC's coming DSSD array will be using 3.8TB solid state drives. HPE says 3PAR arrays will be using drives double that density, 7.6TB, soon enough.
They started using 3.84TB drives with the gen 5 StoreServ 8000s in August last year.
Known 3.8TB SSD products and suppliers:
SanDisk SMART Optimus Max - 4TB 19nm eMLC April 2014
Samsung PM863 3.84TB 30nm 32-layer 128Gbit 3D V-NAND TLC January 2015
Seagate 1200.2 Scalable Endurance Micron eMLC 3.8TB
Toshiba PX04SVB/PX04SSRB 3.84TB 19nm eMLC August 2015
Toshiba PX04SL - 4TB ditto (low endurance & read-intensive)
We suspect, as does AnandTech, that Samsung has a refreshed PM863 SSD coming at 7.68TB pretty soon, with it being a 48-layer 256Gbit die 3D V-NAND product.
HPE will be an early adopter of it and has a 3PAR SSD refresh coming which will use the drive and double the system's maximum flash capacity.
The current StoreServ 8450 all-flash array maxes out at 1,843TiB raw capacity, using 480 drives. This might rise to 3,686TiB, a TiB being 1,024GiB and a GiB being 1,024MiB, with the coming 7.68TB SSDs.
Johnson says HPE is confident NVMe has a role to play in flash storage, while not committing to any announcements.
He said he wonders why companies like EMC and NetApp need three different flash arrays when HPE uses just one, the StoreServ, and finds it doesn't need any more to cover the use cases that EMC and NetApp need multiple arrays to cover. Indeed, he points out, EMC will soon have four flash arrays: all-flash VMAX and VNX, XtremIO and the coming DSSD.
He is respectful of his competitors, saying HPE has to prove it has the best products to its customers and not diss the competition. He also says that more choices make for more difficult decisions. ®
Sponsored: Minds Mastering Machines - Call for papers now open