Carly Fiorina makes like HP and splits – ex-CEO quits White House race
US Prez wannabe rails against 'crony capitalism', puts boot in Hillary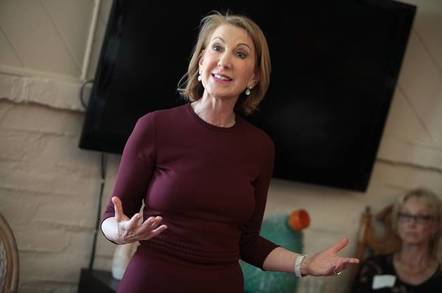 After her campaign garnered just four per cent of the vote in the New Hampshire primaries, Carly Fiorina has announced that she has suspended her run to be US commander in chief, but will carry on campaigning.
"I've said throughout this campaign that I will not sit down and be quiet. I'm not going to start now," she said in a Facebook posting. "While I suspend my candidacy today, I will continue to travel this country and fight for those Americans who refuse to settle for the way things are and a status quo that no longer works for them."
Fiorina launched her campaign in May last year and initially performed better than expected, rising to 11 per cent in polls of Republican voters by September after she very effectively slapped down Donald Trump when the big-haired bloviater criticized her looks – although he later said he was insulting her personality instead.
In the main Republican debates she too courted controversy, however, by claiming to have seen a baby's brain being harvested from "a fully formed fetus on the table, its heart beating, its legs kicking," in a video about Planned Parenthood.
One small problem: no such image exists on the videos released by the Center for Medical Progress. Nevertheless, Fiorina doubled down on her claims and refused to admit she was wrong, and this became something of a feature of her campaign style.
For example, she listed five military generals who, she said, had been forced to retire by the Obama administration. Unfortunately one of the generals mentioned had left the service before Obama became president and another was forced to resign after passing classified information to his mistress. Fiorina said she stood by her statement.
Fiorina pitched herself as a strong business leader who wasn't tied to the political establishment. She cited her experience running Hewlett Packard, a claim only slightly tarnished by the fact that the company lost more than 41 per cent of its stock value over her tenure, and she offshored the jobs of thousands of staff.
Her layoff record was illustrated when her campaign team forgot to buy the domain carlyfiorina.org, and it was scooped up by an anonymous buyer who filled it with 30,000 :( emoticons, in reference to the number of staff she let go during her time as CEO.
Fiorina defended her business record, pointing out that at the time, all tech companies were hurting from the dotcom bubble bursting. However, in comparison to Dell, Microsoft or Apple, HP underperformed even so.
After a brief surge in popularity, Fiorina's polling numbers dropped sharply in autumn and she was relegated from the main Republican debates and instead argued in the preview also-rans' conversations. By the time of the Iowa caucus last week she drew less than 2 per cent of the vote.
In Wednesday's statement, Fiorina said that she would fight against "crony capitalism," and "our bloated, inept government bureaucracy." She also included a few choice words for Hillary Clinton, although she didn't name her directly.
"To young girls and women across the country, I say: do not let others define you. Do not listen to anyone who says you have to vote a certain way or for a certain candidate because you're a woman," she wrote.
"That is not feminism. Feminism doesn't shut down conversations or threaten women. It is not about ideology. It is not a weapon to wield against your political opponent. A feminist is a woman who lives the life she chooses and uses all her God-given gifts."
It's not the first time Fiorina has dabbled in politics. She clinched the Republican nomination to run for the US Senate in 2010 after some frankly bizarre campaign tactics, but lost the race by 10 percentage points to Democratic Party incumbent Barbara Boxer, despite spending over $6m of her own funds on the campaign.
Is this the end for Fiorina in politics? Possibly not – she proved a better-than-expected debater and was one of the few candidates to give Donald Trump a pounding onstage. She also has some support among the remaining runners and may have a shot at either the vice-presidency or a seat at the cabinet table if the Republicans win the election. ®