Don't you see these simple facts? Destroy Facebook and restore human Liberty
This man is really sick, sick, sick, sick, sick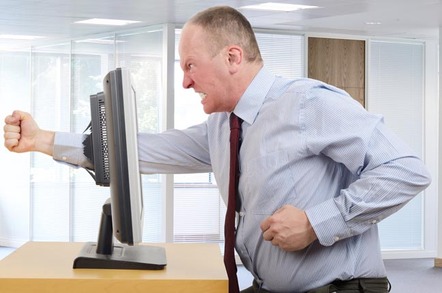 FoTW What could be more warmly received on this brisk winter's day than a delicious, heartfelt bellow of rage from a Commentard who could bear it no more.
We haven't had one in a few years, but Sir, you are our Flame of the Week... and nobody claims their five pounds. Nobody wins any pounds. In fact, nobody wins.
This is especially the case for the subjects of the story which elicited this pearl, the CITIZENS of the United States India, and the PAID PROPAGANDIST who wrote it, our very own Andrew Orlowski.
Control-C, Control-V.... ooooh! Here it is in its full glory, below.
Don't you see these simple facts?

Who is this crud apologist for Facebook, and its pathological founder? This is not journalism, this is paid propaganda. This guy is Zuckerberg's flack. Facebook's Indian gambit, is the most colonizing, overbearing freedom take on the planet. Thank God the Indian authorities stopped him. Now, let us all reason how to give Liberty to the 2 billion existing Facebook subscribers, who inadvertently gave it up, not knowing or expecting the consequences. Let us try to lift them out of their dreaded muck-filled silos, one by one, or at least stop them before they reproduce and create more Zombies. No, people, you do not have the freedom to give up your Liberty. You have the responsibility to retain it. You remember, don't you? You read it in grade school.

"We hold these truths to be self-evident, that all men are created equal, that they are endowed by their Creator with certain unalienable Rights, that among these are Life, Liberty and the pursuit of Happiness."

You may perceive that there is no way to "pursue happiness" unless you have Liberty, which means freeing yourself from Mark "You have one identity." Zuckerberg's identiy-destroying silo, the biggest plague that has threatened to engulf mankind in a long time. This man is really sick, sick, sick, sick, sick. Destroy Facebook and restore human Liberty.
That's him told. ®
Sponsored: Detecting cyber attacks as a small to medium business