Pure as the driven CEO: El Reg chats to Scott Dietzen on taking the flash array high road
Pure Pods and yes-we-can-ery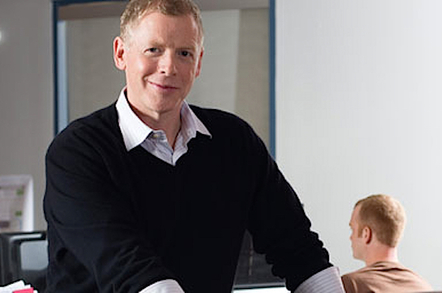 Analysis Scott Dietzen is leading Pure Storage along the flash array high road, determined not to cede any advantage at all to flash array rivals and driving Pure to stay in the flash market forefront by investing for growth.
He's been in the CEO chair at Pure for five and a half years now, and three months post-IPO sees the firm powering away at the front of the all-flash array market, duking it out with EMC and HPE, and arguably leaving IBM, NetApp, HDS and everyone else behind.
The business can spend money to keep itself in the market forefront, having north of $500 million in the bank and a quarterly burn rate of $13 million. He says that as long as investors see revenues increasing faster than operating expenses in this growth phase of the business – as long as they see a reliable road to profitability as it were – they will be happy.
At present, for every 70 cents of OPEX, Pure is bringing in $1.70 of revenues and Dietzen thinks that ratio will keep on improving because Pure's operating efficiency will carry on getting better.
The IPO, and the exposure of how Pure used Gartner's mistaken numbers in its own marketing, indicates that Dietzen is a take-no-prisoners kind of CEO. In our view he is so committed to making Pure a success that if circumstances hand him something that could be advantageous, then he'll use it straight away, no questions asked, and brazen it out afterwards.

Pure's latest FlashArray //m system
He'll also, when responding to questions about competing products and suppliers, cede no unnecessary weaknesses and reveal no roadmap items that could hinder current product sales. Pure Storage's array products are in the best place they could be in the market, and no doubt, whenever developments happen they will be in an even better place.
We see him as a highly competitive kind of person, constantly challenging his people to do better. It's as if laurels won are a launchpad, not a reason for resting.
El Reg talked about competition and technology with Scott.
HDS and NetApp ground-up design AFA validation
HDS has just launched its own ground-up designed HFS A series flash arrays. Dietzen said: "It's a good news; bad news situation."
The good news is that HDS is validating Pure's idea that a ground-up flash array design is needed, while the bad news is that AFA competition just stepped up a notch. As it did again with NetApp buying Solidfire, which Dietzen thinks will be a more market-influencing event than HDS' conversion.
In Dietzen's view: "It's a strong positive move by Hitachi [which] is basically telling customers at some time it will be time to move to new technology. Exactly like EMC with VMAX and XtremIO. Customers should do comparison shopping at that point."
All-in-all, "it creates more opportunities for disrupters like Pure to assert themselves."
NVMe and NVMe fabrics
Pure is shipping arrays with dual-ported NVMe NVRAM modules today, and thinks it is the only supplier doing so. Dietzen says one customer found his array could support 50 per cent more VMs as a result. Will Pure add NVMe Fabric networking?
The answer was this: "In general we're very bullish ... on the impact that NVMe can have on the solid state storage industry ... It will be a test for flash technology." Perfect answer by Scott, saying the current products are great and Pure will carry on keeping them great.
Convergence rather than hyper-convergence
With hyper-converged infrastructure appliances (HCIAs) getting lots of prominence in the market, how does Pure view the relative attractions of the converged and hyper-converged areas?
"For now we are thrilled to continue to play in the converged infrastructure area." He doesn't think HCIAs are suitable for web-scale use, "because such use cases need to separate or de-couple compute and the storage. It's part of what we've accomplished in our design."
"We do compete with HCIA, but it's low single digits [and] in ROBO (remote office branch office) – the sweet spot in the tier 2 market ... Most HCIAs put SATA spindles in place. It can't compete with tier 1 anyway. For workloads we're most active in, the only real overlap is with VDI. For database, scaled apps and virtualised servers we're able to make performance increases greater than HCIAs can make."
"The tier 2 storage vendors face a more direct fight with HCIAs today."