Seagate's triple whammy: Disk numbers, costs, and flash
Didn't you notice? Peak disk came and went three years ago
Peak disk has passed and Seagate has a triple problem set: disk build numbers; costs and pricing; and what to do about flash.
Revenues for Seagate's second fiscal 2016 quarter, ended Jan 1, were $2.98bn, down 19.4 per cent on $3.7bn a year ago.
Net income was $165m, representing an 82.3 per cent fall on Q215's $933m.
Chairman and CEO Steve Luczo was somewhat anodyne in his canned comments: "Our results this quarter reflect the achievement of many of our operational goals, including improved profitability in our product portfolio and effective cost controls."
"We are confident we have the right strategy and portfolio to continue delivering market-leading value to customers and generating strong returns for our investors through financial discipline."
Not the phrase "market-leading value", not "market-leading products". Has the company resigned itself to being a long-term number two player in the disk drive business and a distant follower in flash?
In general Seagate's profitability has been below 10 per cent for three quarters in a row and we think the company has a cost problem.
Seagate's quarterly annual revenue show declines for the last three years, indicating to us that the company can't build enough drives or sell them at a high enough price as it had been able to do before then.
Stifel analyst Aaron Rakers reveals that Seagate's blended Average Selling Price ($/unit) stood at ~$58 vs. WD, which reported $61 for the December quarter.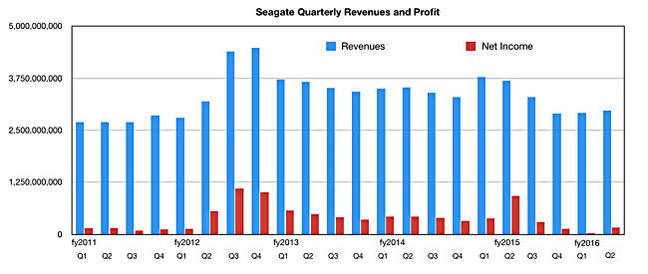 WD built 49.7m drives while Seagate made 45.9m.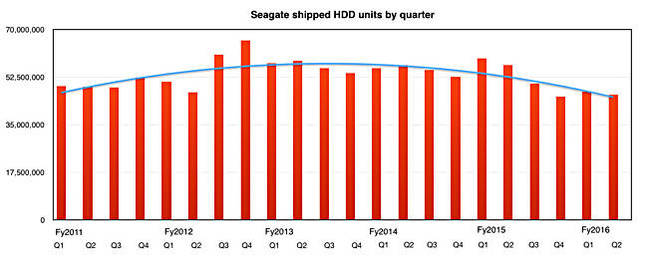 The rise and fall of disk drive production. Polynomial trend line added
The chart above prompts this question; "Was the fourth quarter in fiscal 2012 Seagate's peak disk period in unit terms?" Are we set for long-term disk drive unit ship decline?
Turning to the segment splits we see that desktop and notebook drive units fell, as they did for WD.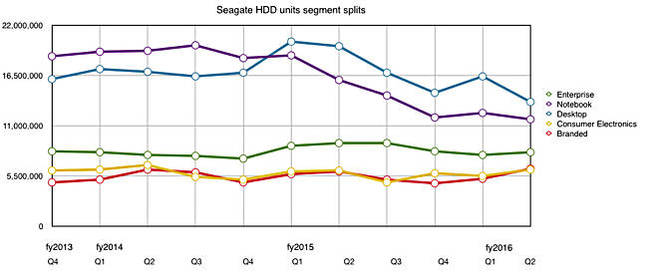 Notebook and desktop drive units are diving down
Enterprise rose slightly and branded and consumer electronic drive units rose slightly more, but not enough to offset the two major falls.
Rakers noted Seagate provided revenue from outside disk drives: systems enterprise arrays (Xyratex and Dot Hill); Flash (enterprise SAS SSDs via Micron relationship and LSI PCIe SSDs)[ and 'other'. This totalled $259m (Rakers thinks Dot Hill provided $60m), up from $209m and $226m in the prior and year ago quarters, respectively.
By contrast WD reported $270m revenues in enterprise SSD shiments, indicating that Seagate is already a considerable way behind in this segment.
Here is Rakers' summation of Seagate's flash view;
Regarding the threat from flash, Seagate believes that while flash is increasingly able to support general-purpose data centre workloads, the flash is simply one layer of storage-class memory that is used during processing /ingestion but that ultimately the data from those applications is still being stored on nearline high-capacity (and relatively high margin) HDDs (especially including data replication for data protection purposes).
This is fairly dismissive view and we are curious as to why Seagate steadfastly maintains this view about the relative importance of enterprise SSDs and disk drives - especially in light of WD's $19bn acquisition of SanDisk - and its enterprise SSD shipments - announced in October 2015.
But competitive weakness elsewhere could help Seagate (and WD). Rakers notes: "Seagate's CEO is increasingly skeptical of Toshiba's competitiveness / presence in the HDD industry over the next 1-3 years," and any Toshiba disk manufacturing reduction or exit will help Seagate.
Outlook for Seagate's next quarter is around $2.7bn. Seagate reported $3.3bn revenues in the year-ago quarter. ®
Sponsored: Minds Mastering Machines - Call for papers now open