Cloud growth? Take a number, Microsoft. Two engines have stalled
How to repurpose an old server and tools biz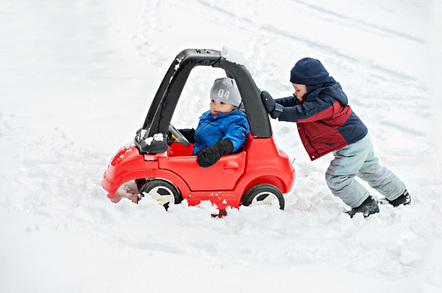 Microsoft's second fiscal quarter showed a company at a dangerous stage in its transition. It also revealed a firm that is unable to rely on the certainties of old.
Not so long ago, Microsoft could call on three engines of growth to drive its business – Office/personal productivity, server and tools, and Windows client machines.
Last September, Microsoft revamped the way it reports revenue. It still has three units, but now known as Productivity and Business Process, Intelligent Cloud and More Personal Computing.
Two of those three units saw revenue fall in the last three months: personal computing down five per cent, and productivity and business process down two percent.
Just intelligent cloud was on the up – by five per cent.
The net effect is a decline in Microsoft's revenue of 9.8 per cent for the three months to December 31 to $23.8bn – Microsoft's second quarter for fiscal 2016 – with net income also down by 13 per cent to $5bn.
Time was when Microsoft could claim growth across all three or two of three of those pre-existing units.
As is now customary among tech's old guard seeking to re-invent themselves or rebrand themselves for cloud – SAP, Oracle, IBM – Microsoft saw big growth in what it calls its cloud business.
Redmond claimed five per cent growth in revenue to $6.3bn in that Intelligent Cloud unit, which is home to private, public and hybrid cloud server products.
Intelligent Cloud is home to the SQL Server, Systems Server, Systems Center products that were once staples of the old server and tools business unit.
These were perennial growers bought by those in business, which meant Microsoft was somewhat insulated from the cruel fortunes of sales in the consumer world.
Azure is the new addition to that stable.
The Constant Gardener
Forget last year's corporate airbrushing year as "intelligent cloud" – this was business as usual in Microsoft's server biz, helped by private cloud. This is not the same-old, same-old, rather an existing server business that's gaining a new lease of life from private and hybrid cloud - courtesy of the classic enterprise-type Microsoft shop unwilling to put its data and compute loads on public cloud.
That said, customers are not shunning public cloud entirely and Microsoft claims growth in Azure revenue but is not breaking out figures.
It claimed Azure grew 140 per cent but, like other US tech firms, Microsoft since last year has used the accounting ruse of "constant currency" in reporting.
Constant currency is a calculation that firms use to say how they would have performed had there been no change in currency rates. It's being employed by US tech firms as the dollar increases in power and as other currencies fluctuate.
Oracle has used this metric for years, but at least it breaks out the actual performance next to constant currency rather than cherry pick.
Another grower in Microsoft second quarter was its application-as-a-service Office and Dynamics CRM Online. Office 365 subscribers increased to 20.6 million, up from 9.2 million for Office 365 Home and Personal reported 12 months ago.
How much did Microsoft made from Office 365? Microsoft claimed 70 revenue growth but didn't say from or to what. Also, 70 per cent was "constant currency."
However, and here's where we begin to approach the crux of Microsoft's transitional status: Revenue for the unit that houses Office 365 and Dynamics, the Productivity and Business Process unit, fell two per cent to $6.7bn. Office sales were not broken out.
Personal computing - more or less
And this is where we hit the crux of the matter: that third engine in the Microsoft business machine, Windows, stalled badly over the Christmas period – a time that traditionally was a happy period as people shopped for PCs for friends, family and themselves.
More Personal Computing fell five per cent to $12.7bn, with declines in sales of Windows to OEMs and a steep decline in phone revenue – five per cent and 49 per cent, again in "constant currency". That fall came despite the presence of Windows 10 and shows Microsoft has a real problem.
If you live by the belief that new versions of Windows drive sales of news PCs, as Microsoft and Intel do, then "free" Windows kills sales of new PCs.
Microsoft and PC makers must now think beyond free Windows 10 if they are to jointly drive PC sales and, thus, licensing of Windows 10 – thereby pushing revenue from sales of Windows to OEMs back into the positive.
More Personal Computing doesn't just house PCs; it's home to phones and gaming, too. Also: Surface. Microsoft's PC pulled in $1.3bn versus $1.1bn from a year ago. Now, as then, Microsoft credited this to the presence of its latest model, Pro 4 versus the Pro 3.
Microsoft could thank Santa for one thing, at least.
Piecing things together it's clear: Microsoft should again give thanks for the server and tools business, rebadged and benefiting from cloud. This is picking up where Windows client and Office have stalled. This was not a quarter to "frame" rather it was more of the same difficult transition. ®
Sponsored: Minds Mastering Machines - Call for papers now open