WD notebook drive shipments plummet
Desktop decline and flash substitution adds to disk output gloom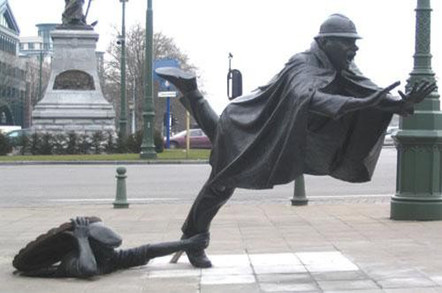 WD revenues and profits are declining as it finds disks and SSDs a hard sell in what its CEO calls "an increasingly challenging global economic environment".
Revenues for the second fiscal 2016 quarter, ended Jan 1, were $3.3bn, which is 2.94 per cent lower than the $3.4bn recorded for its first quarter and a decline of 15 per cent from the $3.89bn reported a year ago.
Net income was $251m, 11.3 per cent less sequentially, and 45.4 per cent down annually. It made 49.7 million disk drives, 3.9 per cent fewer than the first quarter's 51.7 million drives, and 18.5 per cent less than a year ago, when 61 million drives poured out of its plants.
A look at the drive type numbers shows that the damage is due to collapsing notebook and declining desktop drive shipments. Fewer PCs are being bought. Flash-using tablets are being substituted for some notebooks, and notebooks are moving to flash away from hard disk drives; these seem the obvious reasons for this.
In the earnings call, CEO Steve Milligan said the overall disk drive market shrank: "The HDD TAM (total addressable market) in the December quarter came in somewhat below our expectations. The gaming sector was weaker and enterprise volumes were a bit lighter than expected."
Milligan added: "We see that continuing trend toward client SSDs, particularly in commercial class notebooks. … it is steadily increasing."

A chart shows what's happened more clearly: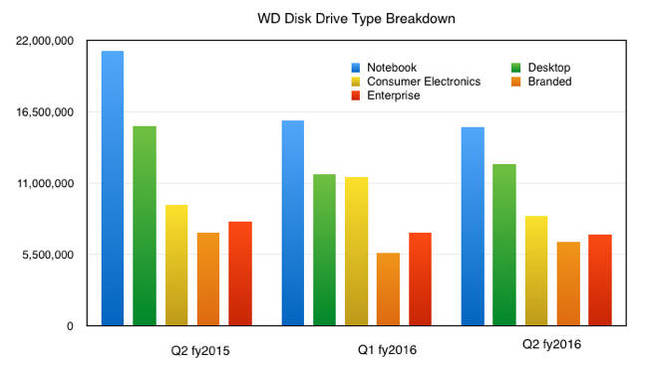 Capacity drives are a focus and Helium drives shipments totalled a record 1.5 million.
Although enterprise drive ships were not that impressive, capacities were up. Milligan said: "Obviously, as we ship higher capacity points, we're going to ship, all things remaining equal, fewer units. So… we continue to see strong petabyte growth. The number that we're estimating is 32 per cent which is – well, longer term, 35 per cent."
The downturn is due to enterprise SSDs: "We do see the beginnings of the incursion of enterprise SSD into what is traditionally performance enterprise."
Enterprise SSD revenue grew to $270m in the December quarter, a 44 per cent rise on the year.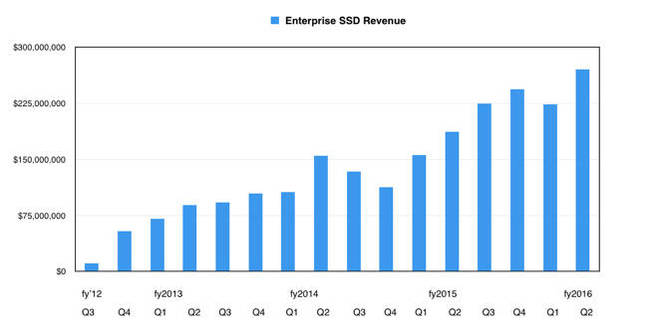 It's growing nicely but still relative peanuts; representing only 8.2 per cent of WD's revenues for the quarter. Milligan said: "While we continue to believe enterprise SSD will be one of our main growth drivers, we expect to see a pause in our growth in the March quarter, given typical seasonal factors in enterprise IT spending, and as we proceed through a SAS product transition."
Some two-thirds of the weakness in the quarter will be due to a seasonal dip, though.
HGST integration
Looking ahead, WD is integrating the acquired HGST facilities and operations and has the SanDisk acquisition to complete. Milligan expects this to close in the June quarter.
It will promote WD into a top tier solid state non-volatile memory product supplier, alongside Samsung, joint-venture partner Toshiba, Intel, Micron and SK Hynix. Seagate will, in this regard, be left behind, both because it does not have its own integrated NAND production operation, and because WD will become a much bigger business in revenue terms.
The outlook for the next quarter is based on "weak demand in the March quarter, resulting in a hard drive TAM of approximately 100 million units." That is due primarily to PC and gaming disk demand weakness.
The company is reducing its cost structure. It closed a head wafer manufacturing facility in Otawara, Japan, last week and will streamline us product roadmap eliminating redundant products. A new organisational structure should be complete by the end of the fourth fiscal 2016 quarter.
SanDisk and Unis
Milligan also said: "Our strategic joint venture with Unisplendour to sell our storage systems in China is proceeding as planned." The $3.8bn Unisplendour investment is weaving its way though a CFIUS (Committee on Foreign Investment in the United States) review, with Milligan saying: "We now expect a decision from CFIUS sometime in February."
He pointed out that the Unisplendour and SanDisk deals were separate but interlinked: "The closing of the SanDisk acquisition is not contingent upon the closing of the Unis transaction. What will be affected, if for one reason or another, the Unis transaction were not to close, would be that incremental shares would be issued to the SanDisk shareholders in that sort of a scenario. … we're confident in our ability to be able to get the necessary approvals from our shareholders to proceed with the transaction."
Potential interest rate rises have been factored into WD's calculations regarding the acquisition. Milligan said: "We expect to quickly de-leverage our debt to the tune of specifically $3 billion within a short period of time after the closing of the transaction. … we continue to be very confident with regards to our ability to service the debt post close of the SanDisk transaction."
All in all, WD is better positioned than Seagate to enter the Chinese market, and cope with flash adoption by notebook PCs and enterprise performance disk drives. Relatively speaking, it should surpass Seagate's performance even more in the next few quarters. ®
Sponsored: How to get more from MicroStrategy by optimising your data stack