The Quantum of solace: Well, at least the scale-out storage revenues were up
CFO takes a hike while overall revenues fall
Quantum unsurprisingly saw declining revenues in its third quarter, hit by general storage market weakness and tape pricing falls which offset scale-out storage revenue increases.
Revenues shrank 10 per cent annually to $128m in its fiscal 2016 third quarter ended Dec 31, 2015. They rose 9.4 per cent on the sequential compare, a seasonal pattern.
There was a loss of $3m, a turnaround from the $6.9m profit reported a year ago, but better than the $11.2m loss reported in the previous quarter.
Within the product categories:
Scale-out storage and related service revenue grew approximately $8.5m to a record $35.7m, a 31 per cent increase, marking the 18th consecutive quarter of year-over-year growth
Royalty revenue increased $0.6m to $11.3m
DXi disk backup systems and related service revenue decreased to $19.6 million
Branded tape automation and related service revenue decreased to $38.5m
OEM tape automation and related service revenue decreased to $12.7m
Devices and media revenue decreased to $10.2m due to a $3.5m decline in tape media revenue.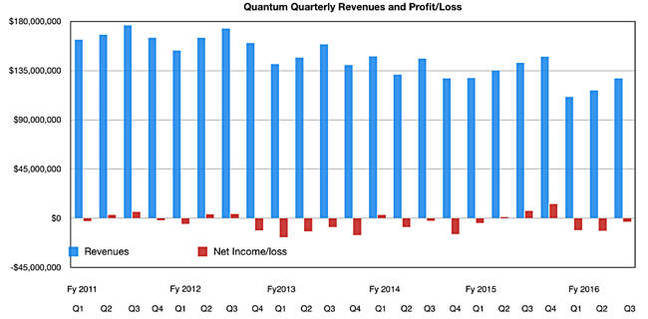 Click image for larger view and less eye-strain
What did President and CEO Jon Gacek think? "We are pleased with our overall results and the continued scale-out revenue growth this quarter, to a new record high, especially given the overall weakness in the broad storage market environment."
CFO Linda Breard has left "to pursue another opportunity" with Chris Willis, VP for financial analysis and planning, becoming interim CFO. A search process has been started for a permanent replacement.
Regarding the next, fourth quarter, Gacek said: "We will continue to focus on growing our run-rate scale-out revenue driven by expanding our media and entertainment, surveillance and technical workflow opportunities, and we will continue to work to close the mega deals in our sales funnel."
Revenue-wise, Quantum is looking at $118m to $122m, $120m at the mid-point, which is 18.8 per cent less than a year ago and 6.3 per cent down on the current quarter – a depressing thought.
For the full year then Quantum would see $479.5m revenues, well down on last year's $553.2m (13.3 per cent down.) Quantum reported $1.02bn revenues in 2007 and is now expecting a sub-half billion year. The poor firm is managing its way through a constant, unending tape decline and its first get-out-of-tape-jail card, the DXi dedupe backup to disk systems are now fading, having not managed to replace tape revenues on their own.
The scale-out storage (StorNext) area is growing steadily, and has done so for 18 quarters, but it too has so far not replaced tape revenues, or exceeded them. Fifteen out of the last 23 quarters have been loss-making ones for Quantum but data growth provides a constant tailwind for the scale-out storage products.
Let's hope that when the tape decline levels off Quantum can enjoy a period of profitability before getting attacked by the next secular change, which will probably be the public cloud. ®
Sponsored: Webcast: Why you need managed detection and response