Ginni Rometty to pocket $4.5m bonus for IBM leadership
Company rewards three years of failure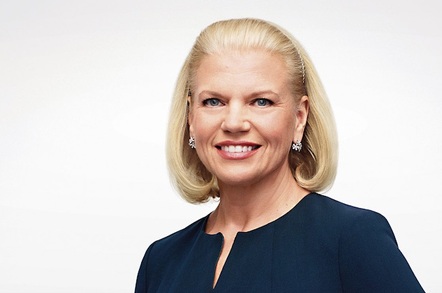 What do you get if you preside over 15 straight quarters of shrinking sales, evaporating profit and a sliding share price? A seven figure bonus if you are Ginni Rometty, the chief exec at IBM.
Her base salary for 2015 remained unchanged at $1.6m, but the bonus swelled by $1m to $4.6m. Oh, and the long term incentives package (due to vest in 2019) was $13.3m, according to a Securities and Exchange Commission filing.
The package is up on the $3.6m of last year, with the exec refusing to take home a bonus in 2013 citing "disappointment at the company's output." No such gesture was made for 2015.
IBM, like all old world technology firms, is battling cloud upstarts, trying to convert more of its own business to annuity services to offset slower demand for traditional hardware and software.
Offloading chip production and the x86 server division, the biggest ever re-org last year, countless workforce 'rebalancing' activities, all point to the shifting shape of Big Blue.
Since Rommety was made CEO in 2012, IBM has acquired more than thirty companies, many that sell cloud services or develop software. Cloud, analytics, security and mobility are among Big Blue's priorities, and accounted for 35 per cent of revenues.
This recalibration of the business has showed itself in the financials, which came in at $104.5bn after Rometty's first year at the helm, but were $81.7bn at the close of 2015. Net profit in 2012 was $16.6bn and had fallen to $14.7bn for calendar '15.
The share stood at a proud $185 when Rometty took office, peaked at nearly $215 in November '14, but is currently a little under $124.
Clearly the board has bought into her vision of IBM's future, and it may well come good for IBM, but it hasn't yet. ®