Brit airline pilots warn of drone menace
'Serious near misses' prompt safety concerns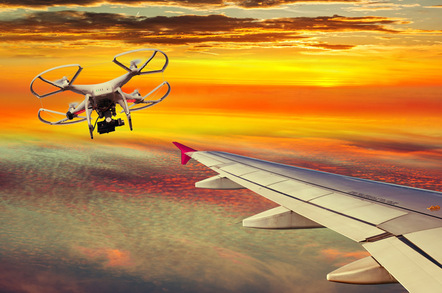 The British Airline Pilots Association (BALPA) has demanded action to control the use of drones following "a spate of serious near misses" over UK airports.
The latest UK Airprox Board report (PDF) describes seven incidents involving drones, of which four fell into the most serious category A, "where a serious risk of collision existed".
For example, the pilot of a Boeing 777 departing Heathrow on 22 September last year described (PDF) a near miss with a "Quadcopter type" UAV at 2,000ft.
The Airprox Board report contains details of other incidents at London City, Manchester and Stanstead airports.
Accordingly, BALPA is "calling for stricter rules and a registration system so drone operators can be easily traced and prosecuted for any irresponsible flying". It also wants "technology to stop drones from being able to fly in areas where they could meet commercial traffic to be routinely fitted to the devices".
Steve Landells, BALPA Flight Safety Specialist, said: "Pilots can see that drones can be useful and fun to fly, but these near misses are becoming too regular an occurrence. We must act now to protect passengers and flight crew and make sure a catastrophic crash does not happen.
"The authorities must enforce current regulations and make sure new ones, such as compulsory insurance and registration, are brought in without delay."
In the US, owners of drones weighing over 250g have until 19 February to sign up for the Federal Aviation Administration's Unmanned Aircraft System (UAS) registry, or face "civil and criminal penalties".
Last November, the Irish Aviation Authority announced a similar registration scheme for drones over 1kg. ®