Samsung: Is gadget lust still a thing in 2016? Nope
Profit warning issued on back of forecast weaker tab and smartphone sales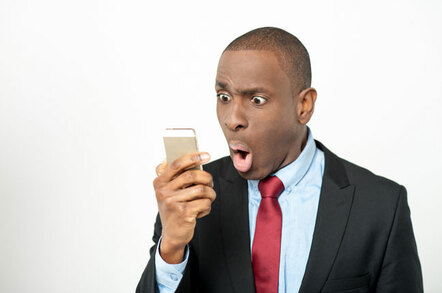 Samsung Electronics has forecasted weaker smartphone and tab sales for 2016 amid concerns consumers' gadget lust is waning - well, if there's no compelling reason to upgrade, folks don't upgrade.
"[We are] expecting challenges in 2016 to maintain earnings due to a difficult business environment and slowing IT demand," the South Korean chaebol said when outlining Q4 '15 financial results.
Maintaining profits at the same level at last year will be "difficult", it added.
The warning came a day after Apple revealed iPhone sales had slowed to the lowest level since launch, iPads were down by a fifth and Mac revenues fell too.
Stock market and currency volatility, crashing oil prices, and political instability are just some of the incidents shaping IT vendors' view of the world.
Gartner projected global device shipment growth of 1.9 per cent to 2.44 billion units for 2015, but it reckoned classic PC and tab sales will decline, smartphones and detachable/ convertible PCs will not.
The solution, Samsung said, is to capture seasonal demand later in the year, make higher margin components/ finished products and build out IoT in Smart Home and Smart Health.
Samsung did alright in Q4, turnover was up 1.1 per cent year-on-year to 53.3 trillion won (£3.08bn), as operating profit climbed to 6.1 trillion won from 5.29 trillion won in the same period of 2014.
The results represented a quarter-on-quarter decline, as "global economic headwinds" including plummeting oil prices, and unfavourable currency exchange rates.
Samsung said the component side of the business managed "weakened prices" for DRAM and LCD panels "due to overall softer demand in the IT market and PCs".
The Semiconductor Unit reported revenue of 13.2 trillion won, up from 10.6 trillion, and it banked the group's highest operating profit at 2.8 trillion up from 2.7 trillion.
Sales of mobile and server DRAM were solid, NAND was lifted by demand for higher density mobile devices and SSDs for servers and PCs. Samsung said it will expand the 20-nm process migration and develop a 10nm process in DRAM.
In Displays, Samsung logged revenue of 6.53 trillion won, down 7.3 per cent, on a year ago, and a 36 per cent drop in operating profit to 300 billion won. Declining average sales prices continued, the company noted.
The LCD market will be affected by intensive competition among panel makers and seasonal declines in Q1, while slower smartphone sales will hit Samsung in the pocket across the year, it said.
The Mobile division crossed the quarter with 25 trillion in consolidated revenue and 2.23 trillion won in operating profit. This contrasts to revenue of 26.29 trillion won and operating profit of 1.96 trillion won in the prior year period.
Writing off some smartphone stocks, or as Samsung put it, "inventory adjustment", coupled with a greater mix of low-end devices "led to the decline in sales".
"As for the outlook for 2016, Samsung expects single-digit percentage growth in both the smartphone and tablet categories amid softening demand and intensifying competition",
TVs are another problem area for the makers: here, Samsung logged revenues of 13.85 trillion won down from 14.27 trillion won and operating profit was 820 billion won.
For the year, Samsung registered turnover of 200.5 trillion won, down 2.76 per cent and operating profit of 26.4 trillion, up from 25.03 trillion. ®
Sponsored: Minds Mastering Machines - Call for papers now open