This EMC is bereft of expansion, it is formerly increasing ... it is ex-growth
Tough being at the top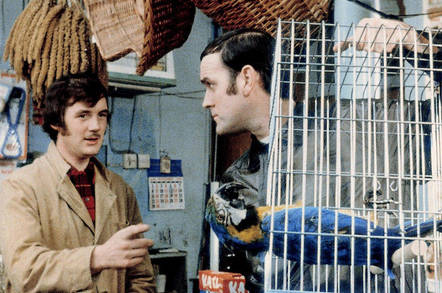 Analysis EMC is now an ex-growth stock. It pulled out its traditional hard-selling fourth quarter, but it achieved 0.7 per cent less than the year-ago quarter.
Full-year results, published on Wednesday, were ahead in the annual compare by just 1 per cent. It's been a hard year for the world's number one storage supplier.
Fourth quarter 2015 [PDF] revenues were $7bn; they were $7.05bn a year ago and the annual revenue chart shows growth has effectively come to a stop. We think the public cloud, all-flash and hybrid array and hyper-converged infrastructure appliance (HCIA) competition took their toll on revenues and margin.
Net income was $771m, which compares to $1.15bn a year ago, a 33 per cent fall, symptomatic of margin pressure as the revenue compare was flat.
Full year revenues of $24.7bn were a microscopically small amount, 1.1 per cent, above the $24.44bn reported for 2014. Effectively, and for the time being, EMC is no longer a growth company. Revenues from fast-growing hot products are not enough to counter the drag of fading, legacy products.
Some details:
EMC Information Infrastructure business fourth-quarter revenue was down 4 per cent year-over-year and full-year 2015 revenue was down 2 per cent y-o-y.

Information Storage (VMAX, VNX, Isilon, etc) fourth-quarter revenue of $4.65bn was down 4 per cent y-o-y and full-year 2015 revenue was down 1 per cent y-o-y.

XtremIO ended the year with over $1 billion in revenue.
VCE exited 2015 with an annualized demand run rate exceeding $3 billion.
Virtustream ended the fourth quarter with the strongest quarterly bookings in its history.

RSA at $258m in the quarter was down -10 per cent y-o-y.
ECD at $163m was down -6 per cent y-o-y.

VMware fourth-quarter and full-year GAAP revenue within EMC was up 10 per cent and 9 per cent y-o-y respectively.
Pivotal continues to gain momentum as it helps the world's largest enterprises successfully expand their digital capabilities, with fourth-quarter revenue up 25 per cent y-o-y.
Basically EMC II let the team down.
Stifel MD Aaron Rakers noted "traditional high-end VMAX and mid-range VNX/VNXe were negatively impacted by impending 1H2016 product refreshes and secular/architectural shifts."

EMC quarterly revenues and net income to Q4 cy2015. Click chart for larger version
Globally, regional revenues were pretty flat except for Latin America, where fourth-quarter revenue was down 16 per cent y-o-y, no doubt reflecting the mess Argentina, Brazil and Venezuela have got themselves into.
Joe Tucci, EMC chairman and CEO, knew the results were momentous, and said; "The fourth quarter of 2015 follows 24 consecutive quarters of reported year-over-year top-line growth; an accomplishment very few of our peers have matched. 2015 brought geopolitical and other market-wide uncertainties, while secular technology trends continued to accelerate."
The white knight riding to the rescue is Michael Dell: "Together, EMC and Dell will be better positioned in the market. We believe that the coming together of the companies is the best strategic option for all stakeholders. I'm pleased to report that progress on closing the transaction remains on track under the original terms and timeline."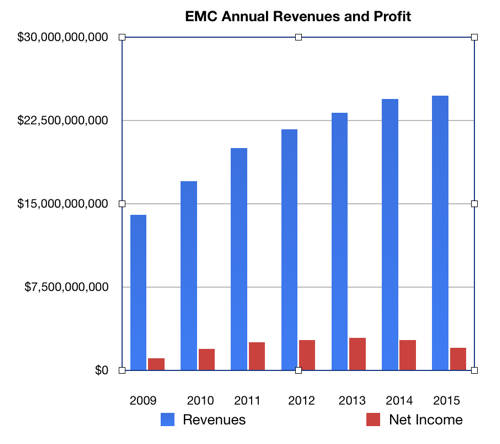 Recent EMC annual revenues and net income
David Goulden, EMC Information Infrastructure CEO, said, "Customers are buying 'just enough' and 'just in time' for their traditional environments. They are also transforming existing IT systems toward a Hybrid Cloud or building and deploying new digital applications. In some cases they are doing it all simultaneously. Against this market backdrop, our storage business revenue grew 3 per cent in constant currency for the full year."
Ah, constant currency, you flatterer you. It's true of course, but today's business abroad is accounted for in today's dollars using today's exchange rates. Life is tough, but it is what it is. Goulden sang XtremIO's praises:
XtremIO crossed the $1bn sales mark in 2015 – four quarters of revenue, not bookings.
Goulden said, "Another way of looking at this: XtremIO's Q4 revenue exceeded the cumulative revenue for the last four reported quarters of our closest public competitor [Pure Storage] in this space."
An EMC PR spokesperson said that, for context, Meg Whitman said last year that HPE's 3PAR division had a goal of $500m for 2015, and unofficial analyst estimates pegged IBM at about $500m as well.
Yup, XtremIO is doing well, no question, but not well enough to offset the sales decline from other products.