Apple's retail chief: 'Touching customers' key to retail success
With products - they're touching customers with products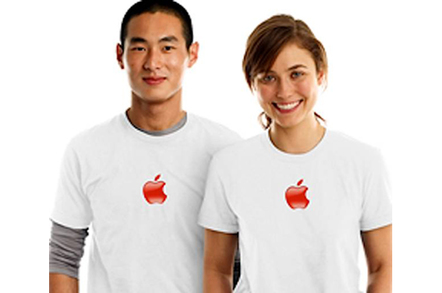 Apple's retail supremo Angela Ahrendts has handed down pearls of wisdom on how to make retail staff feel loved, in a valuable lesson for anyone running customer-facing sales teams.
Getting new staff to stay the course in tech sales can often be difficult, with a consequent knock-on effect on the ability to build customer relationships. In the worst case, relying on a mix of either unmotivated or untrained staff can seriously impact your brand.
So, how does Ahrendts keep standards up? In an interview with fast company magazine, she revealed:
"I don't see them as retail employees. I see them as executives in the company who are touching the customers with the products that Jony [Ive] and the team took years to build. Somebody has to deliver it to the customer in a wonderful way."
Ahrendts, who built her name at Burberry before joining Apple in 2013, said it was a question of culture.
"The thing I didn't know before I came in — a month in, I told my husband, 'I now know why this is one of the most successful companies on the planet: Because the culture is so strong. The pride, the protection, the values.'
"The company was built to change people's lives," she continued. "That foundation, that service mentality, that drive to continue to change lives — that is a core value in the company."
Of course, it's not just customers who are touched in Apple stores. Last year a lawsuit claimed that retail store staff were subjected to "demeaning" and "embarrassing" shakedowns at the end of the shift to make sure they weren't sneaking out any of Jony's products.
Two tenderised employees claimed compensation for the time they spent being searched, and had their suit upgraded to class action status last July. The grand sum these company execs are claiming? Around $1,400 per year spent working at Apple.
By comparison, Apple's Paul Grady-alike chief exec, Tim Cook, was paid $10m last year, while Ahrendts herself took home $25.7m. Cook isn't allowed to take family members on work trips unless he contributes toward travel expenses - there's no word whether he gets searched to make sure he doesn't break that rule. ®