A Load DynamiX six-vendor all-flash array bake-off seems to have involved a short list of just four vendors. Two appear to have gone missing.
Load DynamiX has software to enable a storage workload to be modelled and run using potential suppliers' arrays to test out which ones are best suited to the job.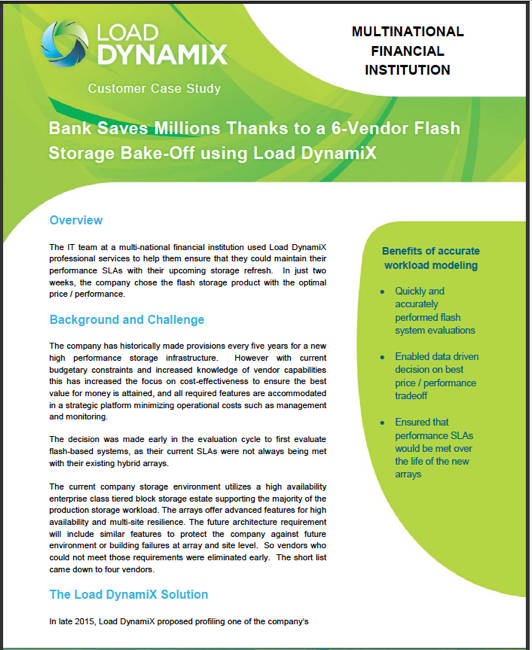 The company has put out a PDF case study bragging about how a multi-national bank used Load DynamiX software and services to ensure high array performance when it went through one of its five-year storage array refresh cycles.
This time around they wanted to evaluate all-flash arrays (AFA) as the existing hybrid arrays couldn't perform against the service level agreements (SLAs) in place. The case study says "The short list came down to four vendors."
Somehow that got promoted to six in the case study heading: "Bank Saves Millions Thanks to a 6-Vendor Flash Storage Bake-Off using Load DynamiX."
Either way, the evaluation produced clear differences between the four potential vendors:

Load DynamiX performance profile of four AFA suppliers on one workload
The four unidentified vendors' systems varied in latency, cost, IOPS and throughput performance, enabling our happy multi-national to make a better informed choice between systems priced between $1m and $5.9m. As the case study says: "Millions of dollars of savings resulted." ®
Sponsored: Webcast: Ransomware has gone nuclear