Uber driver 'pulls handgun' on passenger
Florida ride ends at wrong end of semi-automatic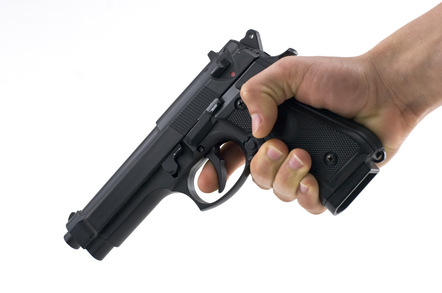 A Florida Uber driver stands accused of threatening a passenger with a semi-automatic handgun after his fare suggested he might blow chow, according to cops.
Patrick McDonald, 67, picked up Shane Fabry and chums from downtown Bradenton shortly after 8pm last Friday. En route to Fabry's home, the 27-year-old advised McDonald to pull over "in the event that he began to vomit", as the local police report puts it.
The driver obliged, only to be informed by Fabry that "he was feeling better and no longer felt like he was going to be sick", the report continues.
Unimpressed, McDonald ordered Fabry out of the vehicle on the grounds that he was "not going to throw up in his 75,000 dollar car". A roadside verbal altercation followed, during which McDonald "reached into the driver side of the vehicle and produced a black semi-automatic handgun".
Fabry claims McDonald pointed the weapon directly at him - an assertion the driver denies, while insisting he grabbed the gun "because he was in fear of his life".
McDonald was cuffed and charged with "aggravated assault and battery", according to this local report. Uber has "deactivated" his account pending while it "gathers facts about the incident". ®