Apple growth flatlines ... Tim Cook thinks, hey, $80bn is still $80bn
Peak iPhone! No, wait, Peak iPad – no no no, pal, it's Peak Mac!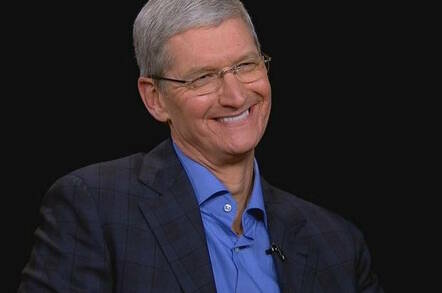 Apple has once again set a high watermark for quarterly revenues and profits, though only by a smidgen – its meteoric rise has otherwise completely stalled.
The Cupertino consumer electronics behemoth said that from October through December – Q1 of its fiscal 2016 – it pulled in US$75.9bn in revenues [PDF], leading to an US$18.4bn quarterly net profit. This, however, was countered by drops in revenue for the Mac and iPad as well as the slowest growth in iPhone sales since the handset was first launched.
The $75.9bn revenues were up 2 per cent over the $74.59bn haul last year and the single highest for Apple in one quarter.
Apple's $18.4bn net income was up two per cent from $18bn in the year-ago quarter.
Earnings per share of $3.28 topped analyst estimates of $3.23.
iPhone revenues were $51.65bn from 74.7 million units shipped, up just 1 per cent from last year, when Apple shifted 74.4 million handsets and logged $51.18bn of revenues.
Mac revenues were down 3 per cent at $6.74bn; Apple shipped 5.3 million units, down from 5.5 million a year ago.
The iPad continued to tumble for Apple. The tablet line saw revenues drop by 21 per cent at $7bn, compared to $8.9bn the year-ago quarter. iPad shipments of 16.1 million units were down from 21.4 million units last year.
Apple's Internet Services branch, including iTunes, iCloud and the App Stores, logged $6.05bn of revenues on the quarter, up 26 per cent from year-ago quarter when services brought in $4.79bn.
"Other Products," a category encompassing the Apple Watch, iPad, Apple TV and Beats hardware lines, reported revenues of $4.35bn, an increase of 62 per cent over Q1 2015.
Apple pinned the financial slowdown in part on global trends, including the ever-present "currency headwind" that has plagued companies. Revenue in the Americas was down 4 per cent and Japan was down 12 per cent. Revenue in Europe was up 4 per cent, and China gained by 14 per cent.
Despite the slowing growth, Apple CEO Tim Cook reassured developers with what he termed "the mother of all balance sheets" at Apple and big potential for growth in services revenue, thanks to what Apple says are now one billion of its devices actively in use worldwide.
Tellingly, though, Apple expects to rake in between $50bn and $53bn in revenues in the next quarter, somewhat lower than the $58bn it recorded a year ago. The company's stock price dipped 2.70 per cent, dropping to $97.2, in after-hours trading. ®