HP takes utility computing to the kids... well the teachers
PC-as-a-service young man? Let me finish my ciggie first please sir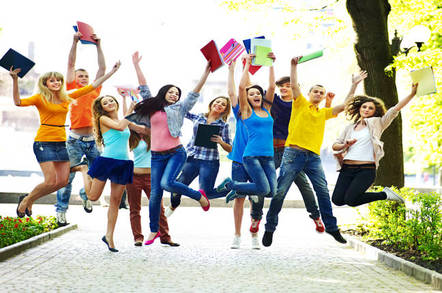 HP Inc has launched a PC-as-a-service plan to schools and unis that it promised will cost less than most students spend on their behind-the-bike-shed ciggies.
This was among a raft of devices, software, services and programmes the PC and printing house bared today at the BETT technology education trade show in London.
Neil Sawyer, HP Inc channel sales, education & SMB director for the UK and Ireland, said HP Subscription is a leasing and financial service package being lined up for educators for the first time.
"This gives our channel partners the opportunity to sell HP technology, software and services to a student under a monthly billing arrangement," he told us.
The idea is to take the potential pain of managing technology away from teachers to let them get on with their day job. HP Inc will provide support services via a help desk. What can go, er, wrong?
HP Inc piloted the scheme with channel partner Vohkus and latterly brought on board Insight, CCS Media, and Softcat.
"One of the big learnings we had to incorporate was how do you develop something that is transparent and perceived as affordable in comparison to paying upfront".
Sawyer, known in the channel as HP's Benjamin Button due to his boyish looks, told us the package starts at £5 per month, including a Chromebook 11, service and support for three years. The package including an HP 250 G4 costs £7 per month.
In other moves, HP squeezed out Education Edition notebooks, and released HP School Pack 2.0 - instructional, management and supplemental tools - that let teachers manage classroom PCs and communicate with hoards of pre- and post pubescents. Adaptive learning, a calculator app, single sign-on mechanism and a Codeacademy app to learn how to code are also included.
Entry-level devices got a make-over too, with the unveiling of the Chromebook 11. In the US, Chromebooks have taken the education sector by storm but Microsoft defended its patch well in Europe by launching Windows with Bing, a discounted OS that translated into cheaper priced gear. In fact, Windows with Big was so successful that it limited the march of Google to the point that Microsoft decided effectively kill it.
Sawyer reckoned schools using online assessments in the States was one of the reasons shipments soared and he predicted something similar coming to Europe to spur sales locally. This may be wishful thinking.
The last bit of hardware to be showcased at BETT was Sprout Pro, an all-in-one desktop with a printer and scanner integrated. The product was sold by retailers to consumers but will be targeted at education and business punters.
The machine allows for 3D models to be captured, rendered and shared with colleagues. This has obvious appeal to folk working in areas such as design but at £1,899 only teachers in private schools like Eton and Harrow could contend with such a price tag.
Sawyer told us Sprout is the "technology of the future" and HP Inc wants to start kids using the product early, for obvious reasons. ®
Sponsored: Quit your addiction to storage