Guess how much IT spending slumped last year? $216 billion
It's all about the money, money, money...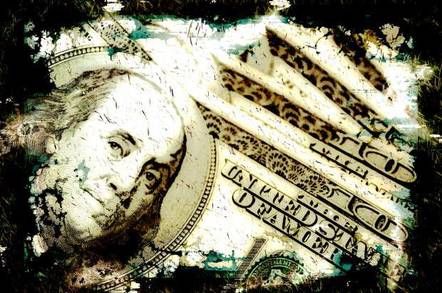 Some $216bn less was splashed on tech goods and services last year versus 2014 – the equivalent to ten per cent of UK GDP, or, if you prefer, almost three times the size of the output of Oman.
This is the preliminary findings from Gartner mages, who told us the drop in spending to $3.52 trillion was the sharpest decline since they'd begun reading the tea leaves tracking IT spending.
The appreciating US dollar versus most if not all of the other major currencies across globe was to blame, as the cash spent in regions was converted back into American money, the base tender of the tech world.
The forex factor forced US vendors to subsequently raise some prices to protect margins - the UK was less impacted by this than other areas including mainland Europe - and this then dampened customer demand.
Currency volatility is expected to be less of a factor in 2016, said Gartner research veep Richard Gordon, who forecast that most segments of IT will expand. IT spending is estimated to reach $3.536 trillion at the end of this calendar year, up 0.6 per cent on last.
"The IT market is still very competitive and the growth rates reflect a market that is mature. There is still some strength in the negotiating position of buyers so shop around in the advice we give," said Gordon.
The data centre system sector was the only area to report an expanding waistline last year, up 1.8 per cent to $170bn – the hyper scale trend among services providers and hosting firm fuelled this.
"We under-called the strength of the server market," the Gartner veep told us. Spending is expected to continue rising in 2016, up three per cent to $175bn, as the same dynamics continue over this 12 month run.
Enterprise software is forecast to jump 5.3 per cent to $326bn, driven by further SaaS deployments, security, IoT, analytics and licensed on-premise wares that still require maintenance.
IT services, an area of the market that is more discretionary and the first to be cut when times get tougher, is predicted to recover, growing 3.1 per cent to $940bn.
Analytics will push up spend, customers still need to keep the lights running and then of course the cloud will also increase, said Gordon.
The areas where growth is expected to elude vendors includes devices and comm services where spending is forecast to decline 1.9 per cent and 1.2 per cent respectively to $641bn and $1.45 trillion.
Gordon said Gartner factored economic uncertainty in business land, the fragile economies in Russia and Brazil and tumbling oil prices in its forecast.
But he claimed that in general "the underlying economic situation is relatively healthy".
The extent of the currency impact caught out Gartner last year, but Gordon claimed that in constant currency, the numbers came in where it was expecting them to.
Will there be any wobbles this year? Let us know. ®
Sponsored: Minds Mastering Machines - Call for papers now open