HPE tops IDC's all-flash array list. But look who's not on the list
Severely narrow view of AFA industry
+Comment Research house IDC has put out an all-flash array marketscape* which deliberately excludes most of the available all-flash arrays. HPE tops its AFA list.
IDC identifies three leaders:
EMC with its XtremIO product
HPE with its 3PAR 7450c
Pure Storage and its FlashArray //m
Can we put them in a 1-2-3 order?
The marketscape is a 2D space with the vertical axis denoted as "Capabilities" while the horizontal one is "Strategies".
IDC says: "The Capabilities category focuses on the capabilities of the company and product today, here and now. Under this category, IDC analysts will look at how well a vendor is building/delivering capabilities that enable it to execute its chosen strategy in the market."
Regarding Strategies, it says this: "[It] indicates how well the vendor's future strategy aligns with what customers will require in three to five years. The strategies category focuses on high-level decisions and underlying assumptions about offerings, customer segments, and business and go-to-market plans for the next three to five years."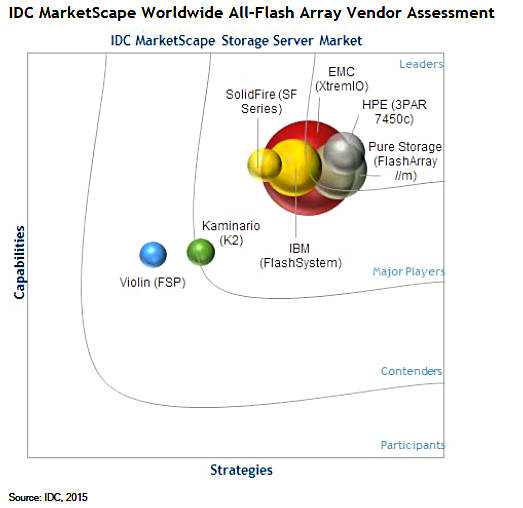 IDC AFA 2015 Marketscape
The closer to the diagonal line, from lower left running to upper right, a vendor is and the higher up the line they are, the better.
IDC provides four bands so ordered: Leaders, Major Players, Contenders and Participants. Suppliers are placed in this space with variably sized and coloured circles representing their position.
Do we take the upper right leading edge of each circle or the centre to guauge each supplier's position?
IDC says: "The size of the individual vendor markers in the IDC MarketScape represents the market share of each individual vendor within the specific market segment being assessed." Guess we take the centre and see how close that is to a lower left, upper right diagonal on the chart.
Considering all these points, this indicates to us that HPE's 7450c is tops, although it hasn't sold as much as EMC or Pure Storage. EMC and Pure Storage are joint second, with EMC having sold more kit than Pure.
Next are three suppliers in a major players' category: IBM with its Flash System first, Solidfire, being acquired by NetApp, second, and Kaminario is third. That company, by the way, has just hired Josh Epstein to be its VP of marketing and Mark Walker to run UK channels.
Violin Memory is the only company in the next, Contenders category. There are no suppliers mentioned in the participants' category.
Comment - artificial restrictions
IDC has a restrictive, and arguably artificial, definition of all-flash arrays. Here is its AFA definition:
AFAs are enterprise-class storage arrays that must:
Only use either CFMs or SSDs to meet both performance and capacity requirements within the array
Include hardware that is unique to the array (other than just the choice of populating the array with all-flash media) and is not shared with HFAs (if present in the vendor's portfolio)
Include a specialised operating environment that is specifically optimised to support and get the most from a performance, endurance, and reliability point of view out of flash media
HFAs are Hybrid Flash Arrays. CFMs are Custom Flash Modules. Vendors must have revenue generated from an AFA product line in the first half of 2015.
This definition excludes all-flash configurations of hybrid flash/disk arrays, meaning the list of exclusions is longer than the list of inclusions.
IDC's reason for the exclusions is this: "IDC's review of unpublished performance testing data using more real-world workloads (not "hero" tests) combined with simultaneous data services indicates that there is a noticeable performance difference, particularly with respect to consistent latencies, as a system is scaled up to its maximum throughput range between AFAs and HFAs."
Excluded products and players include:
All Dell all-flash arrays
EMC all-flash VMAX and VNX systems
All Hitachi Data Systems all-flash arrays
Huawei all-flash arrays
IBM all-flash DS-series products, SVC all-flash configs, etc.
Fujitsu all-flash arrays
NetApp E-Series and All-flash FAS
Oracle systems
Tegile all-flash arrays
Tintri all-flash arrays
In El Reg's view, this makes IDC's marketscape even less use than Gartner's AFA MQ in looking at a list of potential AFA suppliers for a project and ordering them in a top-level preference sort of way. The idea that customers looking for an AFA would exclude all the companies and products on the list above because they don't meet IDC's AFA criteria is plain silly.
But neither IDC nor Gartner are being helpful in assisting customers to decide which all-flash array suppliers and systems they should consider using in their data centres. Still, if you want to spend $15,000 to find out how a minority of all-flash array vendors are doing – and ignore Dell, HDS, Huawei, NetApp, Oracle, Tegile and Tintri in the process, not to mention all-flash hybrid systems from EMC and IBM as well – then go right ahead. ®
* IDC MarketScape: Worldwide All-Flash Array 2015–2016 Vendor Assessment.