T-Mobile US CEO Legere apologizes/refuses to apologize for BingeOn
A change of tune? More a learning experience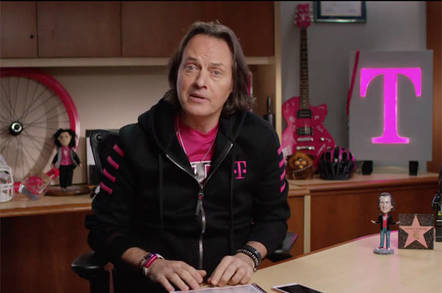 Analysis T-Mobile US's excitable CEO John Legere has apologized while refusing to apologize over the aggressive stance he took in response to criticism of his network's BingeOn service.
Choosing to write a blog post, as opposed to his video and Twitter appearances last week that stoked an already smoldering fire, Legere was almost conciliatory when he acknowledged people's net neutrality concerns over BingeOn.
"T-Mobile is a company that absolutely supports Net Neutrality and we believe in an open and free Internet," he wrote. "We want to continue to innovate and bring creative new benefits to market for all of our customers. That is who we are. It's what we do."
He even apologized – a new experience for Legere – for dismissive comments he made about the Electronic Frontier Foundation (EFF) which has been pushing hard on the issue. "Who the fuck are you, anyway, EFF? Why are you stirring up so much trouble, and who pays you?" he said last week, prompting a social media backlash.
His tune changed this week. "Just because we don't completely agree on all aspects of Binge On doesn't mean I don't see how they fight for consumers," he said about the organization. "We both agree that it is important to protect consumers' rights and to give consumers value."
And we're back
The introspection didn't last long however before Legere was back on his usual form. "Look, by now you know that I am a vocal, animated and sometimes foul mouthed CEO. I don't filter myself and you know that no one at T-Mobile filters me either – they don't even try," he scribbled.
"Unfortunately, my color commentary from last week is now drowning out the real value of Binge On – so hopefully this letter will help make that clear again."
Far from making it clear, however, the company's message over the service - which lets specific video services not count toward monthly data downloadlimits but throttles all video to DVD-quality 480p – has changed again.
YouTube complained that T-Mobile US was throttling its video despite it not having signed up to the service. That meant T-Mob customers were getting less-than-full-quality video (modern smartphones can handle much higher resolutions than 480p).
That complaint came in addition to fears that the service itself is undermining net neutrality by creating a situation where there are tiered services. If you agree to T-Mobile's terms, your video service does not count toward customer usage data – making it more attractive for consumers. It is not hard to imagine that T-Mobile could start charging companies to be one of its BingeOn "partners" thereby undermining the concept of no preferential treatment of content.
Despite T-Mobile claiming it is a big defender of net neutrality, and despite Legere's week's worth of treatises, the company has yet to address this fundamental issue, noting only that it has lots of companies asking to be included in the service.
Throttling
As to the video throttling, Legere first claimed that it wasn't throttling at all, before giving almost a textbook definition of throttling. Now the message has changed to one of giving customers extra choice.
"Binge On is a VERY 'pro' net neutrality capability," Legere claims. "You can turn it on and off in your MyTMobile account – whenever you want. Turn it on and off at will. Customers are in control. Not T-Mobile. Not content providers. Customers. At all times."
He also retested a message from last week when the controversy kicked off - BingeOn is "like an economy button built into a new car to save gas".
And in an attempt to head off criticism that T-Mob has effectively forced all of its customers into receiving sub-par video quality to save it data costs, he pushes the argument that the service shows that T-Mobile US is working in favor of its customers.
"We don't like to make customers dig around to find great new benefits - that is something a traditional carrier would do when they really hope you, the consumer, won't take any action. Can you imagine the disappointment, if people saw our TV commercials about Binge On, then went to watch 10 hours of video expecting it to be free, and only THEN learned that they needed to go into their settings to activate this new benefit? That's how the Carriers would do it, but not T-Mobile. Everyone has it from day one, period."
Reality
The truth of the matter is that T-Mobile is trying to offer its customers more as a way of pulling them away from other phone companies that do abuse their strong market position to extract as many dollars as possible from every customer.
T-Mobile introduced for no cost a service last year where music streaming from most online services did not count toward a monthly data limit – and it proved hugely popular. However, in its efforts to do the same with video as well as audio, the company hit on the fact that video data usage is far, far higher with pictures.
There is some truth in Legere's argument that "incredibly high resolution rates are barely detectable by the human eye on small device screens and this is where the data in plans is wasted."
However, for obvious reasons the carrier didn't want to note that its new service degraded video quality so it plowed on and then attempted to streamroll criticism of this approach. That's where Legere's personality and impact on the company's culture came undone.
The fact is that T-Mobile US doesn't want to make its customers turn services on and off because it only focuses their attention on the fact that they are using data. And the turn off feature that Legere is now touting as an incredibly easy thing to do is not that at all. In fact, it is a little time-consuming, requiring you to login to your account and go through two menus to get to the option.
In short, it's a mess. And Legere knows it. But the company will figure it out and no doubt he will look back and see it as a learning experience. ®
Sponsored: Practical tips for Office 365 tenant-to-tenant migration