Southend-on-Sea splashes £1.5m on hybrid cloud data centre
Deal will create 'agile' services, apparently. Erm, ever heard of G-Cloud?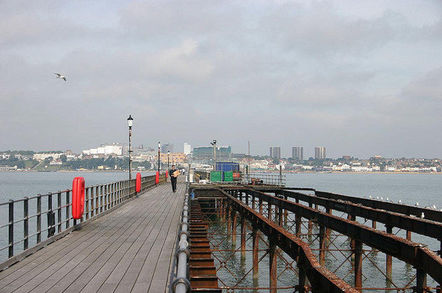 Southend-on-Sea Borough Council is the latest local authority to build its own dedicated data centre, with the council ready to spend up to £1.5m housing its own "hybrid cloud" services.
The council said it is looking to appoint a provider to supply, install, and test the new data centre. The contract lasts for three years and starts next month.
From 2019 the council will tender for a provider to run the centre.
It said it hoped the infrastructure would serve as "a catalyst for contributing to its Digital Strategy" which aims to deliver "benefits to communities and businesses across the borough".
These benefits supposedly include providing "agile services" to citizens, public sector services, and businesses.
The Register has asked for the council's business case for the decision.
Southend-on-Sea is not the first borough to opt for a bespoke data centre over existing government vehicles for procuring cloud services, such as using the G-Cloud or Crown Hosting frameworks.
Earlier last year Solihull (central England) also commissioned a data centre for £1m. In response to a question from the The Register as to whether Solihull had considered using the government frameworks, the council said it had – but "in this instance there was no business case".
Solihull council is re-locating a data centre from one building to another and also has a vacant building suitable for a new data centre. Staying on-site eliminates the most expensive data communications costs, it claimed.
"We explored moving the whole data centre to the cloud, but none of the suppliers on the market, or even other authorities offering shared services, could compete on cost with building our own data centre. Over ten years our on-site facility will work out substantially cheaper than 'renting' one from the cloud," said the council.
However, it's worth noting some of the problems encountered by councils running their own data centre services. At the end of last year, services at Glasgow City Council were brought to a halt after a powerful blast of gas was released in its data centre, following the accidental triggering of the fire suppressant system. ®
Update
Two days after The Register approached the council for a comment, it sent us a press release denying it had shunned the G-Cloud.
"We are not building a new data centre as part of this tender," it said. "The existing room, where the refreshed equipment will be situated, is currently used by many vital services that underpin Southend and wider Essex functions. These include NHS, schools, police, local businesses, many third party G-Cloud vendors and several other Local Authorities."
It added: "Whilst storage and other services in the cloud are seen as fashionable, they are still often not the most cost effective method of delivery."
It also cited concerns over Safe Harbour regulations - however, these would not apply if Southend had opted for the government's cloud frameworks from the outset, or a UK-based data centre.
Mark Craddock, former Cloudstore lead, said the money for the tender could buy a lot of services from existing UK cloud Internet-as-a-service providers. He added: "It seems to be an excessive amount of infrastructure to support cloud."
Sponsored: Minds Mastering Machines - Call for papers now open