HPE smashes champers bottle on side of punter engagement centre
Trying to 'demonstrate the art of the possible'. Right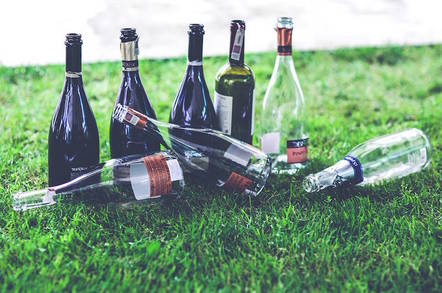 Hewlett Packard Enterprise expects 250 corporate enterprise clients – and incumbent channel partners – to this year unburden their biz challenges at a swanky London-based customer centre.
Top brass from the firm today descended on the capital as the ribbons were cut on the Customer Engagement Centre (CEC), an EMEA hub that is the first of its kind from HPE outside of the US.
HPE told us 14,000-square-foot space is all about letting existing and new punters talk about ideas in the era of digital stuff to fend off the upstarts, attend "collaboration" workshops, and get kit demos.
"In the idea economy you can't prove your credibility by PowerPoint," said HPE EMEA overlord Peter Ryan, and "the reality is you prove it by use cases".
"Our role in this sense is we try to demonstrate the art of the possible," he added.
As is typical with all tech vendors these days, HPE highlighted business "disruptors" such as Spotify, Airbnb and Bla Bla Cars as reasons why slow moving corporate dinosaurs need to digitise their organisation and jump into the cloud.
HPE killed off its own public cloud at the start of this month but has cuddled up to Microsoft with Azure and has its own OpenStack private clouds under the Helion banner.
CEC is not purely a cloud play to drag customers kicking and screaming into the 21st century; the total portfolio is represented from Moonshot to security software to analytics.
Previously, HPE had national demo centres for certain product lines and though it refused to comment on the size of investment, it must have run into the tens of millions of pounds.
Despite this, the company said it has no specific revenue goals, or at least not ones it will share publicly, by creating CEC.
HPE said some services will be billable to new customers but not for existing ones. Hedley Potts, veep and GM of strategic customer engagement and customer advocacy – no really that is his title – spoke of the potential "clash" the policy may cause.
"We won't charge existing clients as [this is about] hand holding," he told The Reg. Maybe HPE might just want to ensure any tyre kickers don't flood the centre, or it could just be PR.
Hedley claimed the CEC "value" will surface in terms of customer satisfaction and HPE's "relevance" to clients, but generating extra sales, of course, has to be the ultimate reason for launching CEC. ®
Sponsored: Minds Mastering Machines - Call for papers now open