Going on a date, and it's just the two of you? How ... quaint. OkCupid's setting up threesomes
It's 2016 – open relationships and fluid genders are its thing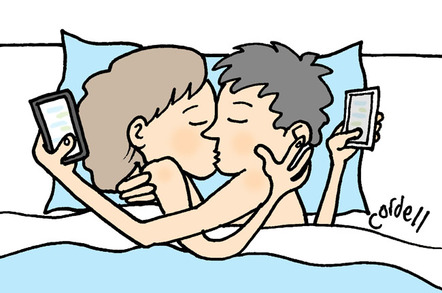 It can be tough to differentiate yourself in the increasingly crowded dating app market. Which means niches. And OkCupid believes it has found one.
Eschewing any pretense that the majority of dating apps are actually looking for the love of their life instead of a hook-up, the app has added a new status option: in an open relationship. And introduced a new feature that lets you pull multiple people into relationship groups.
The new setting will let you tell others whether you are "seeing someone," are "married" or "in an open relationship." And you can also – theoretically at least – pull people together into threesomes by linking profiles.
The company claims that the change is more than just an effort to get randy 20-somethings over to its platform, saying it has noticed an increase in the number of users who are "seriously interested in group sex." Apparently 24 per cent of its users are, although we wonder what their definition of "seriously interested" is.
According to the company, its users are getting more "polyamorous" as time goes on: self-identifying monogamous users have fallen from 56 per cent to 44 per cent in the past five years.
That trend is likely linked to OkCupid actively chasing people with non-traditional sexualities. In 2014, it expanded its list of possible sexualities from three (straight, gay or bisexual) to 12 and included "heteroflexible," "demisexual" [Huh? – Ed], "questioning" and "sapiosexual."
Late last year, it expanded it further to included 22 variations of gender and sexuality, including "transgender" and "genderqueer."
The move is a smart one from parent company Match Group, which has almost a monopoly on dating apps: veteran dating site Match.com mostly brings in older and more traditional types and Tinder is aimed at young adults. It is looking to cover the whole market, with OkCupid trying to scoop all the sexualities outside the norm into one app.
Sadly OkCupid will not provide stats on the number of rejections for multiple partner requests, or any subsequent changes in relationship status. ®