Apple buys mood sniffer AI firm Emotient. Stop rolling your eyes at me, user
Slurped alongside VoctalIQ and Perceptio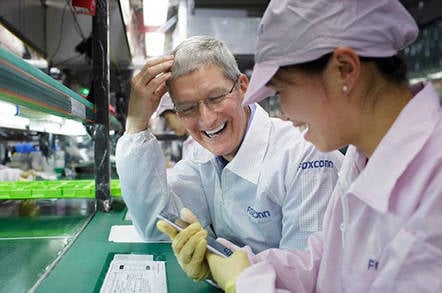 Apple has acquired Emotient, a startup whose technology automates the analysis of facial expressions to measure the reaction of groups, and individuals, to events.
Apple has not revealed the terms or the reason behind the acquisition, but Emotient has a patent portfolio enabling its technology to mine several different media for situations or content involving human emotions.
There are clear applications in reaction-dependent commercial arenas (Hollywood's test screenings) and also medical situations in which expression in response to particular stimulus constitutes a symptom-aiding diagnosis.
As the company itself pitches: "Attention, engagement, emotion. This is the currency of revenue growth and customer satisfaction, because emotions drive spending. These quantities have been measured only as guesses and indirect inferences. Until now."
This indeed is the company's only currently marketed solution: "Customer Insights from Direct Emotional Response".
Emotient is the third such AI acquisition Apple has made of late, with deep-learning biz Perceptio eaten up for its tech and talent, while UK-based VocalIQ was bought to contribute to Siri.
Cupertino is likely to be planning more slurpage for eventual integration within Apple's own technology, with these instances usually accompanied by the line: "Apple buys smaller technology companies from time to time, and we generally do not discuss our purpose or plans." ®
Sponsored: Minds Mastering Machines - Call for papers now open