Iron Mountain stars in total Recall: Watchdog probes rival biz gobble
Get your NAS to Mars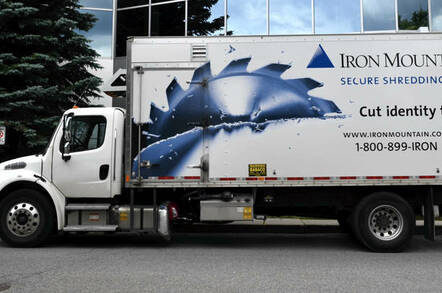 Document and data storer Iron Mountain wants to buy Recall – and the UK monopoly regulator is alarmed.
Iron Mountain put in a $2.6bn (£1.77bn, AU$3.4bn) bid to buy Recall Holdings Ltd in June 2015. Recall shareholders would get $0.50 plus 0.1722 Iron Mountain shares for each Recall share owned. Alternatively, Recall shareholders can choose to receive AU$8.50 in cash for each Recall share.
Recall, headquartered in Atlanta, Georgia, was previously owned by Brambles Ltd., a Sydney-based cargo pallet supplier, and was split off in December 2013. It has 5,200 employees, and offices in São Paulo, Brazil; London, England; Kuala Lumpur, Malaysia; and Sydney, Australia. It has more than 300 dedicated operations centers. These serve about 80,000 customer accounts in 25 countries.
Both it and Iron Mountain are in the RIMS (Records and Information Management Services) business. The UK's Competition and Markets Authority notes:
Both companies supply records and information management services (RIMS) in the UK - specifically records management services (RMS), which comprise the storage and retrieval of paper and hard copy records, and physical offsite data protection (OSDP) services, which involve the storage and retrieval of data and media on tapes/discs. The 2 companies operate from a total of 59 sites across the UK.
Andrea Coscelli, the CMA's Executive Director, Markets and Mergers, and decision-maker in this case, said: "Our research and customer responses indicate that these are close competitors in providing two distinct types of records and information management services. Iron Mountain is the market leader in both of these markets in the UK. With limited existing competition and no potential new entrants identified, the concern is that the merged company could raise prices or otherwise downgrade those elements of their services which matter to customers."
The CMA "has decided, on the information currently available to it, that it is or may be the case that this merger may be expected to result in a substantial lessening of competition within a market or markets in the United Kingdom."
It will refer Iron Mountain's proposed acquisition of Recall for an in-depth (Phase 2) investigation, unless Iron Mountain offers acceptable undertakings to address competition concerns.
Iron Mountain says it is "cooperating fully with the CMA and intends to offer acceptable undertakings in order to address the CMA's concerns. As required under the Scheme Implementation Deed, Iron Mountain will make any divestments that are required in order to obtain the approval of the CMA."
It has until January 7 to submit proposed undertakings, and the CMA will decide if these are good enough by January 14. If so, "the agency will make a formal decision to accept the undertakings in lieu of a Phase 2 investigation, following a period of public consultation."
Iron Mountain says it's working with other regulatory authorities around the world. It and Recall continue to expect the transaction to close early in the second quarter of 2016. If and when the transaction completes, Recall shareholders will then own approximately 21 per cent of Iron Mountain and two current Recall directors will be appointed to the Iron Mountain board. ®
Sponsored: Minds Mastering Machines - Call for papers now open