The Infamous Eight: 2015's memes, themes and big pieces
140 characters leaves you hungry? Try this for 12 months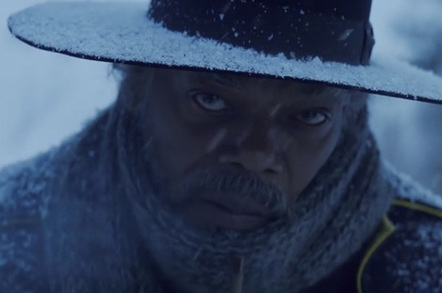 Year in review So, was US Central Command (CENTCOM) hacked, were a LOT of Polish Airlines aircraft cyber breached, and did China block imports of products from Apple and others? The answer in all three cases was a simple "no".
So what of the multiple cloud outages, and Uber's ongoing global legislative and driver woes? In a 140-character-driven culture the problem is that everything is important. In the moment. Now.
OK, so if these weren't the landmark stories of 2015 – news that stood the test of time or said something about the players or the industry – what was?
Quentin Tarantino has his Hateful Eight. Here's The Reg's infamous eight – the themes, memes and stories we believed were worth recall.
Ashley Madison hack
It wasn't the only data breach of the year or even the biggest breach ever – JP Morgan in 2014 saw 76 million affected. But the Ashley Madison hack stood out for a number of reasons.
Hackers took details including email addresses from 33 million accounts, and proceeded to post the data online, totally capturing the net's attention.
Why was this a stand out? First, there was the sheer schadenfreude and salaciousness of the site, and the possibility of finding out who was on it. Sadly, it drove some to suicide.
Next was the fact that an online firm could make a business in extramarital affairs – a business it was going to take public with an IPO. Moreover, the act revealed the apparent fragility of the site's core business, with reports claiming that many of the supposed women on the site were bots created to lure men, something Avid Life Media, owner of Ashley Madison, denied vehemently.
Avid Life Media responded by offering a $500,000 reward for the hackers, but nobody was apprehended. Rather, the hack cost site founder Noel Biderman – self styled "King of Infidelity" – his job as Avid Life Media's chief. It also killed – for now at least – those plans to list on the London market.
Social networks turmoil
Twitter ditched CEO of six years Dick Costolo, bringing back founder CEO Jack Dorsey, and shares in the firm promptly jumped ... but why?
One of the first in social media, arguably one that's defined the very medium, Twitter has failed to parlay both growth in traffic and tweets into profit and revenue. It's a long, long way behind Facebook.
In many ways Twitter suffered an open-source problem: trying to charge for something it's been doing for free and doing so in a way that didn't alienate users. Twitter has been free of the kinds of privacy concerns that have given Facebook a bad name in its quest to help advertisers make the most if its free users.
And now, Jack is back – the founder returned in an attempt to re-capture the early promise of Twitter and rely on the brains that set it up in the first place to somehow come up with a way for Twitter to grow and prosper financially. Three months later Dorsey was back full time and a month later a plan was materialising: eight per cent of its workforce, 365 staff, chopped to revive growth.
Google and Reddit, meanwhile, began to grapple with the idea of what was permitted speech on their sites and services, and they turned puritanical. The former turned on revenge porn on its Blogger service and banned any explicit material unless it offered a "public benefit".
But ban porn and you may as well try to outlaw posting photos of cats – it's critical to the web and three days later, Google succumbed to pressure and U-turned, asking people instead tag pages that contained nudity.
Earlier, Reddit had decided to clamp down on unauthorised postings of people's private nude shots. Reddit's interim chief executive Ellen Pao fell to the trolls<?a> in July following her attempts to clean up the self-proclaimed "front page of the internet".
Ellen Pao closed five hate reddits including one on fat people, resulting in a petition on Change.org for her removal that collected more than 213,451 signatures in just a month.
Digg, Reddit's arch rival, released new community guidelines in September also supposed to tame the hate, but with less fallout than over at Reddit.
Sponsored: Minds Mastering Machines - Call for papers now open