Dear Santa: Can gov.UK please stop outsourcing?
Cornwall's win over BT should be a cautionary relationship tale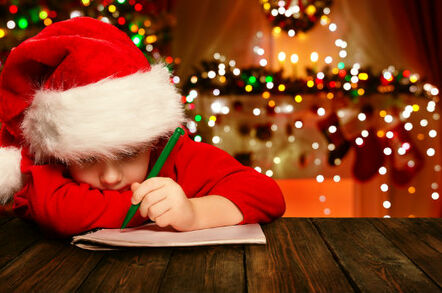 Comment Here's a cheerful factoid that gets gleefully wheeled out by family lawyers each year: the first Monday after Christmas is the busiest day for divorces.
Contributory factors seem to be post-Christmas financial strains, holiday season stresses and misjudged prezzies ("why the hell did/didn't this person buy me a wearable - it's like they don't even know me" etc...)
Partnerships that originally seemed like a good idea at the time reach breaking point under pressure.
It's not exactly a post-Christmas analogy, but it doesn't feel like an unfair comparison to the number of recent high-profile relationship breakdowns between the public sector and its outsourcing partners. And like many divorces, what originally stated out as a love-in ended with both sides lawyering up due to perceived failings.
Just this week Cornwall Council was awarded the right to terminate its 10-year £160m contract with BT just two years after the ink had dried. The council had wanted to can the contract since July, but BT had filed an injunction preventing it to do so.
The eventual contract with BT was a slimmed down version of the original deal proposed in 2012, which was overturned after councillors put forward a no-confidence vote to the leader of Cornwall Council over the plans. "It was a bloody and costly war," said Councillor Andrew Wallis, who has been a tireless campaigner against the contract from its inception.
But Wallis told The Register that it was not just simply a case of the council being naive about the contract - although that played a part.
"I think there's also a question that the council may have been looking to outsource blame for the difficult decisions it has to make due to cuts. It's easier, politically, to say the outsourcer closed a service rather than take those difficult choices yourself."
The point is that a hastily made decision to jump into bed together can end badly for both parties. BT's move to start a relationship with Cornwall has ended badly for the company, from a financial perspective and also from the legal precedent it may have set.
In fact Cornwall is not alone in seeking a divorce from its outsourcer.
Earlier this month, Somerset voted to terminate its 10-year SouthWest One deal with IBM a year early, due to a report finding it had become "increasingly unaffordable". The original contract value was £535m, but that fell to £158m due to negotiations in 2012-2013 to bring services in-house. The council is now bringing the majority of its services in-house over the next 12 months.
Other councils have come under fire for going down the outsourcing route, most notably Barnet - which went ahead with a huge £1bn deal with Capita after the Court of Appeal rejected a judicial review into brought by local campaigners against the privatisation plans in 2013.
Yet some do appear to be taking a more cautious approach. Dorset County Council last week rejected plans to outsource its backroom services, as it was unlikely to be sufficiently flexible in the future, reported the Dorset Echo.
Councillor Robin Cook said: "We don't actually spend a tremendous amount. We're very much in line with what would be expected but we don't really get value for money."
Cornwall's Wallis agrees that the move to outsource can be a false economy. "I do think there's beginning to be a bit of a backlash against these companies whispering sweet nothings into councils' ears. Councils are beginning to realise they are quite adept at making savings themselves, without having to also make a margin like companies do."
In his summing up of the Cornwall case, Mr Justice Knowles said: "Ultimately it is the public that is affected by this dispute, and by the shortcomings in the drafting of the agreements and the failings in performance under the agreement."
He said it was in the interests of the public to "take steps now to avoid a similar situation in the future, in Cornwall and elsewhere."
In order to prevent such situations arising again, the public sector would do well to make it a New Year's resolution not to jump into bed with an outsourcer without careful consideration first.
To coin a phrase: "Outsource in haste, repent in litigation." ®
Sponsored: Your Guide to Becoming Truly Data-Driven with Unrivalled Data Analytics Performance