Converged systems market cracks $10bn a year says IDC
And the winner is … NetApp? Yup, when you look at the market one way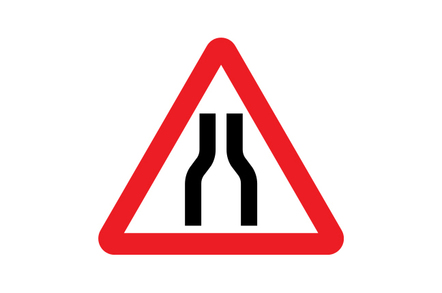 Revenue for converged systems has cracked the US$10 billion dollar barrier over the last 12 months, according to the box-and-cash-counting experts at analyst firm IDC.
The firm's new Worldwide Quarterly Converged Systems Tracker for 2015's third quarter found revenue up 6.2 per cent year over year to $2.5 billion, and 1,261 petabytes of new storage capacity shipments during the quarter. That's up 34.8 per cent compared to 2014's third quarter.
IDC counts three types of converged infrastructure, starting with integrated systems like those offered by Oracle and VCE with everything in the box ready to go. VCE leads that market with quarterly revenue of $483m and 27.8 per cent of the market. HP and Oracle trail, on 22.5 per cent and 21.3 per cent market share.
The second category IDC tracks is certified reference systems, a field in which the Cisco/NetApp FlexPods come out on top with 45 per cent share ahead of EMC's efforts and those of Hitachi Data Systems.
The third category is hyperconverged systems that "provide all compute and storage functions through the same server-based resources." Such systems have grabbed just under 11 per cent of the converged systems market. The firm's not yet breaking out the winners in this category, but it's hard to see it resisting for long if one looks at the graph below and the ever-increasing revenues for hyperconverged kit.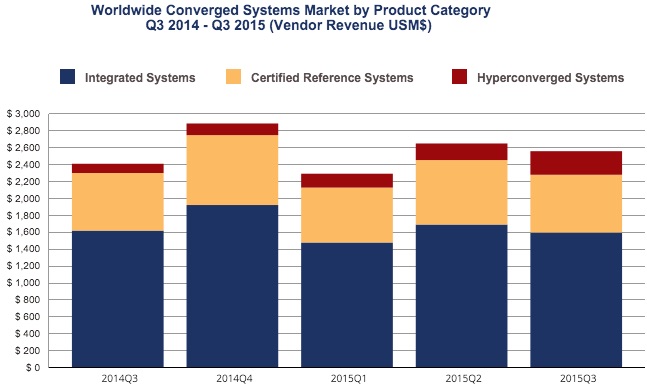 IDC Worldwide Quarterly Converged Systems Tracker, Q3 2015
For the record, the revenue for such kit over the last five quarters was $109m, $138m, $164m, $196m and $279m. That growth defies the graph's seasonal dips in overall converged systems sales and goes a fair way towards explaining why Nutanix has filed for its IPO. ®
Sponsored: Minds Mastering Machines - Call for papers now open