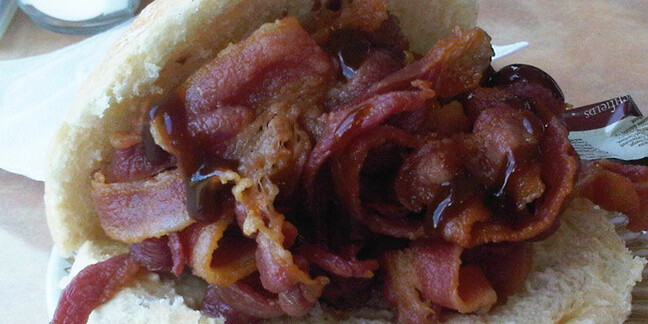 European Space Agency astronaut Tim Peake has pushed the orbital nosh envelope by enjoying a bacon sarnie as his first meal aboard the International Space Station.
What makes a good leader? @StationCDRKelly having a hot bacon sarnie waiting as my 1st meal on #ISS. Boy that tasted good! #Principia

— Tim Peake (@astro_timpeake) December 17, 2015
ISS commander Scott Kelly was evidently well prepared for Peake's arrival. The British astronaut, along with NASA 'naut Tim Kopra and cosmonaut Yuri Malenchenko, travelled to the orbiting outpost on Wednesday.
Peake's first pic was of the Soyuz TMA-19M spacecraft which carried the trio aloft, and which Malenchenko manually docked to the ISS in a deft piece of flying following the failure of the automatic Kurs rendezvous system.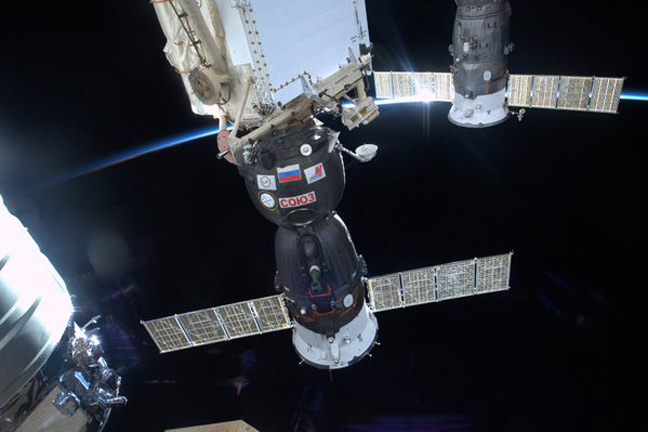 The Soyuz TMA-19M docked with the ISS. Pic: Tim Peake
Sadly, Peake has not posted a snap of the bacon sarnie, and we can only speculate what form it might have taken. The space grub was apparently designed by celebrity food-botherer Heston Blumenthal for a Channel 4 documentary due to air in spring next year.
Blumenthal's challenge was to create seven dishes to remind Peake of home, while complying with NASA space food regs. Accordingly, it seems highly unlikely that Commander Kelly whipped out a frying pan, and the devastating effect on ISS equipment caused by floating crumbs from crusty white bread and globules of brown sauce can only be imagined.
Suitably nourished, Peake can get on with his Principia mission, using "the unique environment of space to run experiments as well as try out new technologies for future human exploration missions". ®
Sponsored: How to simplify data protection on Amazon Web Services