Who needs CCTV? Get a terrifying slowpoke hoverdrone cam
That tiny bright light hovering above your car is not a UFO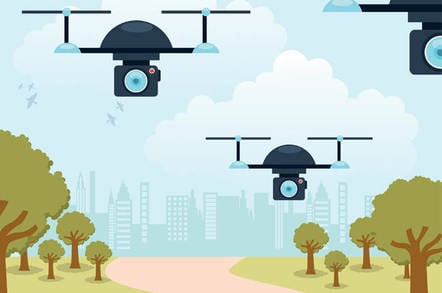 A slow- and low-flying drone has been developed for security guard personnel that will follow visitors and snap their pictures.
Japan's largest security outfit Secom says the drone will attempt to identify and photograph any potential intruder's face as well as the licence plate of their car, Kyodo News reports.
The 10kmph drone, which will fly at a height of five metres, is surely hopeless at chasing anyone with initiative or a shotgun (the hoverthing has LEDs attached that would arguably help thugs aim in the dark), but it is being billed as a superior alternative to fixed CCTV.
Captured images are sent to the company for processing, where it will be determined if a car or individual is a threat.
It will cost ¥800,000 (around A$9,000, $6,600, £4,400) to buy the drone station and a monthly rental fee of ¥5,000 (around A$57, $41, £27).
The drone's production was delayed thanks to a revision of Japan's aviation laws back in April after a small drone with radioactive material landed on the house of Japan's prime minister, Shinzō Abe. ®