Seagate wears dunce's cap in hi-cap disk ship slip
Hi-cap drives driving out small fast spindle spinners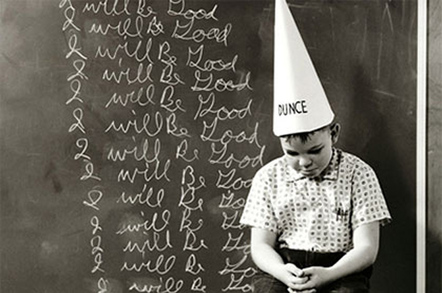 Seagate has misjudged the high-capacity disk drive market, lacking helium-filled drives and mucking up its 8TB drive manufacturing tactics.
Despite recognising that high-capacity drives are the key part of its enterprise portfolio, with SSDs killing off the high-performance 2.5-inch spindle market, Seagate has let WDC (HGST) grab a significant capacity lead with its helium-filled drive technology, giving WDC an extra platter's worth of capacity inside a standard 3.5-inch enclosure.
Analyst haus Stifel Nicolaus' MD, Aaron Rakers, says Seagate "emphasises that it had taken the strategic approach to focus on areal density expansion versus the usage of helium-filled HDDs like Western Digital's high-cap portfolio, noting that it was surprised by the hyper-scale/cloud demand to pay a premium for these [disks]."
It then compounded this mistake by misjudging the demand for 8TB drives in the third 2015 quarter, missing out on sales and gifting them to WDC/HGST.
The company issued a revenue warning in October, noting there was lower than expected demand for 4TB drives.
Chairman and CEO Steve Luczo said; "We are disappointed we did not execute a product portfolio that fully addressed the demand in the nearline market."
Rakers notes "8TB high-cap enterprise HDD capacity shipped accounted for 19.5 per cent of total high-cap exabytes shipped, up from a 6.8 per cent share in 2Q15." He's charted enterprise Hi-cap drive ships since the first quarter of 2012;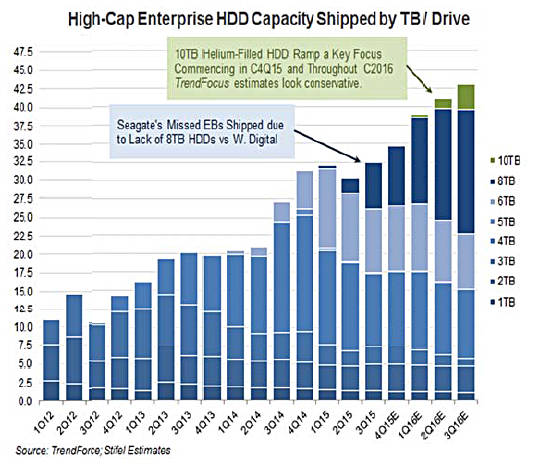 Entrerprise 1TB and up HDD ships by quarter since 2012
The chart shows a dramatic rise in the proportion of 8TB drive ships from Q1 2015 to Q2 and projects an even more dramatic rise over the next few quarters as it becomes the market capacity sweet spot.
The coming highest capacity drive are 10TB ones and their initial ramp-up looks slow.
Seagate should have its own helium-filled drives by mid-2016 and then should do better in the nearline space, with CFO David Morton saying the company is well-positioned from an areal density perspective.
Its recently-announced 8TB drive has one fewer platter and two fewer read/write heads than WDC/HGST's helium-filled, 7-platter, 14-head, 8TB unit. This, together with savings on not helium-filling the enclosure and sealing it, could give it a $15-20 cost saving per drive.
That should help Seagate to become more profitable, and enable it to drop the dunce's cap. ®
Sponsored: Beyond the Data Frontier