Rack servers drive $120bn data centre infrastructure market
HPE, Cisco and Microsoft lead the pack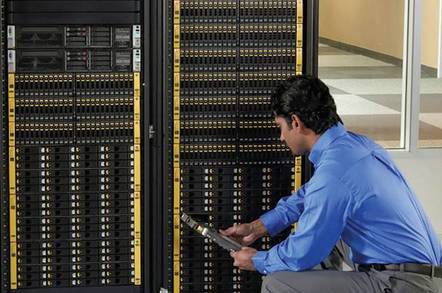 How many rack servers are there in the world? Umm … we can tell you this: about $10bn-worth were sold in Q3 this year or 34 per cent of a global data center infrastructure market worth $29bn in the quarter.
So says Synergy Research Group, which compiled the numbers: its definition of data center infrastructure includes servers, server OS, storage, networking, network security and virtualization software. As usual the firm is parsimonious with the numbers but it reveals high growth in the quarter for virtualization software, blade servers and integrated security platforms.
Three vendors - HPE, Cisco and Microsoft - dominate this market, now worth $120bn a year. Out in front, HPE extending its lead in Q3 to grab 24 per cent of total revenues.
HPE overtook Cisco for the first time in Q2 this year and is growing overall share, courtesy of its performance in the albeit flattish enterprise hardware segment.
Cisco retains its lead in the much smaller, but rapidly growing, service provider segment, thanks to its "dominance of data center networking and its rapidly growing server business".
Jeremy Duke, Synergy's chief analyst, said: "The mass adoption of public cloud services has created the need for widespread deployment of hyperscale data centers and has led to record spending on service provider data center equipment. While the market dynamics are different for private cloud, it too will drive enormous changes in the investment patterns for enterprise data center hardware, software, and services."
Microsoft "totally dominates" data centre software, the smallest of the three segments tracked by Synergy, with VMware, its only competitor to record meaningful market share. ®
Sponsored: Beyond the Data Frontier