SpaceX starts nine-day countdown to first flight of the new Falcon
Hoping to avoid rocket roasting on an open fire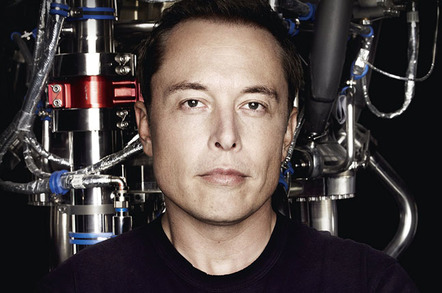 SpaceX is back in the orbital delivery game, with the first launch since its explosive mishap in June.
Aiming for Falcon rocket static fire at Cape Canaveral on the 16th and launch about three days later

— Elon Musk (@elonmusk) December 10, 2015
It has been a rocky six months for Elon's Musketeers since the June explosion, which was traced back to a loose strut that failed under pressure. Since then, the Falcon 9's rocket has been significantly upgraded and a series of test burns appear to show the upgrades are solid and safe.
The rocket will be taken to SpaceX's leased Cape Canaveral site and will undergo static firing on December 16, with a launch attempt on the 19th – weather permitting – between 2000 and 2100 ET (0100-0200 UTC). On board, the Falcon will carry 11 satellites from long-term customer Orbcomm for deployment into low-Earth orbit.
The Orbcomm OM2 hardware are part of the next generation of the machine-to-machine communications network run by the company. Orbcomm's network links maritime vessels, ground stations, and vehicles around the globe to monitor position and performance.
There's a lot riding on this launch. Companies are generally forgiving when it comes to launch failures – it is rocket science after all. But insurers are less easygoing, and having a good reliability record brings premiums down considerably, making SpaceX a more attractive option.
There's also the matter of military launches, a highly lucrative market that SpaceX has been fighting hard to get into.
Musk hasn't said whether or not an attempt will be made to land this launch on the floating barge Just Read the Instructions, but it seems likely. A low-Earth orbit launch will allow plenty of space in the tanks to fuel a landing attempt and the heat is on after Jeff Bezos landed a commercial rocket last month.
At the time SpaceX was quick to point out that the Bezos landing was easy compared to its Falcon landing. The SpaceX rocket travels twice as high as rival Blue Origin's New Shepard system, travels nearly three times as fast, and puts out 15 times the thrust – making landing a trickier proposition.
Bezos also got permission to land his rocket on land, whereas SpaceX is still waiting on FAA permission to do the same and so has to try trickier water landings. The glacial process of FAA decision making is something El Reg readers will be familiar with, so don't expect things to change soon for SpaceX.
But the December 19 launch will be a good chance for SpaceX to seize back the rocketry initiative, and to start bringing in much-needed revenues for the company. If successful, we'll see a return to near-monthly launches from the firm and there'll be a lot more kit heading out of the gravity well. ®
Sponsored: Becoming a Pragmatic Security Leader