ISS 'nauts prepare for Cygnus space truck consensual grappling
Catch the mating live this morning on NASA TV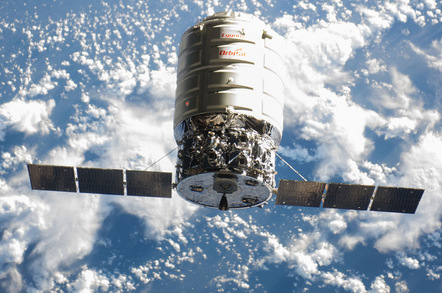 International Space Station residents Scott Kelly and Kjell Lindgren are preparing to grapple the Orbital ATK Cygnus cargo truck, which blasted off for the orbiting outpost on Sunday evening.
The pair will grab Cygnus using the ISS's Canadarm2 robotic limb and dock it with the ISS's Unity module at around 11:10 GMT this morning. You can follow the action live down at NASA TV.
Cygnus is packing around 3,500kg of scientific experiments and crew supplies. Its safe arrival at the ISS will come as a relief to Orbital ATK, which lost its previous vehicle in November last year due to a spectacular Antares rocket failure.
Orbital ATK makes deliveries to the ISS as part of NASA's Commercial Resupply Services program, but for the the latest launch, Cygnus was carried aloft by a United Launch Alliance Atlas V, while work continues to bring the Antares back into service.
SpaceX also operates space trucks for NASA, and it too has had its problems. Back in June, its Falcon 9 CRS-7 mission ended in fireworks due to a mechanical failure. ®