Brits leave 138,000 gadgets in the pub
And drink too much to secure them properly, natch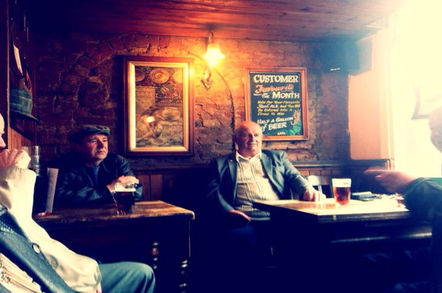 Drunk Brits lose 138,000 devices a year in bars but get most of them back, according to a pub poll by security firm Eset.
The mobile security vendor pinged 600 establishments across the country and extrapolated the results to come up with the 138,000 approximation.
Mobile devices were often dropped in watering holes across the nation, with most lacking security controls to prevent finders snooping through photos and messages.
Hacker mouthpiece Mark James says 60 percent of those claiming to have found a lost phone have poked through it, though some may have done so purely to dig up a contact number.
"As we head into the festive season, offices will be preparing for Christmas parties, which will inevitably involve alcohol consumption and people dropping their guard more than usual," James says in a statement.
"While the majority of the devices in our study do get returned to their owners, there is still a high chance that those with no security protection are accessed by intruders.
"As our laptops and mobile phones begin to carry more and more sensitive information and are linked to bank and work accounts, there is a greater need to protect them because the risks are much higher should the devices ever fall into the wrong hands."
The survey also recorded a lost [human] ash-filled urn, an inflatable sheep, and an equine portrait.
Freedom of information figures covering the 12 months to February last year found that some 180,000 devices were reported lost or stolen to UK police, a figure that would be much higher if it included unreported losses.
Research revealed last year by Imation dubiously claimed 93 percent of senior executives had lost a device or had one stolen over the previous 12 months. ®