Sydney quantum computing wonks get $36M to build god box
Commonwealth Bank lobs $10 million build ball at UNSW team.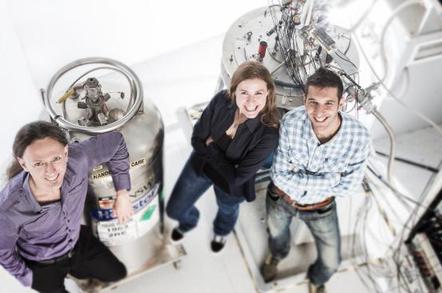 Aussie physicists have scored AU$36 million to advance their work on the world's first silicon-based quantum computer.
The University of New South Wales wonks scored $26 million over five years from the nation's Federal Government and an in-principle commitment of anotehr $10 million from the Commonwealth Bank to push ahead with the work which made headlines last month.
The team announced they had gained the highest Bell inequality test score of 2.70 which is above the complicated threshold to prove the generation of entanglement.
Silicon is a wonderful medium for quantum computing because, as Professor Andrea Morello explained to The Register last month, "The electron in the phosphorus atom has a spin (that's one qubit), and the nucleus has a spin (the other qubit), so you get two qubits."
"What we've done is to entangle the electron with the nucleus, and use the Bell test, which is … is spectacularly unforgiving: as soon as there is something slightly wrong in your setup, your system will no longer be able to pass the test."
The Government cash is made under the National Innovation and Science Agenda while the bank's investment followed a $5 million handshake last December.
Bank chief executive Ian Narev says quantum computing is transformational.
"[This] proves that world-leading innovation can happen – and is happening – in Australia," Narev says. "For innovation to thrive, there must be collaboration between governments, research institutions, businesses and entrepreneurs.
"Our investment has a long-term focus and is an example of potential collaboration and commercialisation.
Their work Bell's inequality violation with spins in silicon (PDF) is available online.®