IBM, NetApp lose ground amid global storage systems growth, says IDC
HP and ODM on the rise, however
IDC's quarterly storage tracker* has revealed that IBM and NetApp have lost the most ground, and HP and ODMs have gained most.
Total worldwide enterprise storage systems factory revenue grew 2.8 per cent year on year to reach $9.13bn during the third quarter of 2015.
In the total disk storage systems market EMC led the field with an 18.4 per cent revenue share ($1.82bn), a fall of eight per cent year on year. HP, in second place, rose 16 per cent year on year to $1.49bn, not so far behind EMC. We find Dell in third place with $899.4m, 1.6 per cent less than a year ago.
NetApp was in joint fourth place with IBM, with its revenues of $651m being 12.8 per cent down on the year.
However, IBM's revenues of $584.6m were a huge 32.5 per cent down on the year, although we should remember that Big Blue's third quarter 2015 revenue excludes x86 servers due to the sale of that business to Lenovo.
ODMs had $1.25bn in revenues, up 23.4 per cent on the year, and surpassing Dell. The IDC chart shows the quarterly trend lines: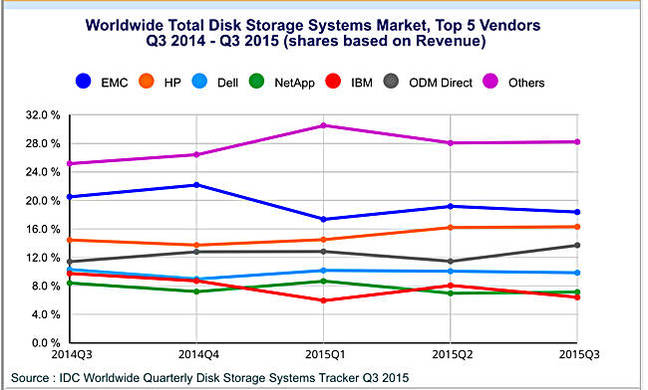 And now without external
Separating out external disk systems results causes the picture to change a little, with IBM's revenue fall being 9.6 per cent on the year, not quite as bad as NetApp's 12.8 per cent.
EMC remains in top place, now with a 29.1 per cent share at $1.68bn, an eight per cent decline on the year. Although still in second place, NetApp revenues declined 12.8 per cent year on year. HP's on the other hand rose 5.3 per to $598.4m, within a whisker of NetApp's $651m, and it could overtake NetApp next quarter. The two are in the joint second place.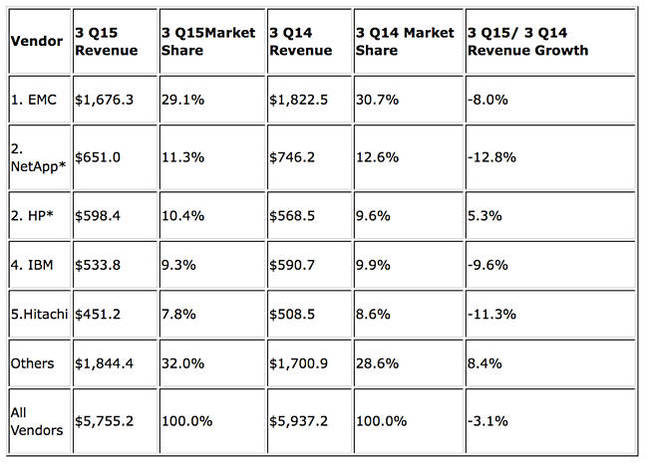 Top 5 vendors, worldwide external disk storage systems market, third quarter of 2015 (revenues are in millions)
IBM is in fourth place with revenues of $522.8m that fell 9.6 per cent on the year. In fifth place is Hitachi at $451.1m, a fall of 11.3 per cent, the second biggest decline after NetApp. Overall, the external array market had revenues of $5.76bn and shrank by 31 per cent year on year.
Public cloud and virtual SAN/hyperconverged architecture systems took their toll. There is no reason to suppose that this trend won't continue. The glory days of external storage array sales look to be over, and vendors must gain business by eating their competitors' lunch.
So far HP is better at this than anybody else. ®
* International Data Corporation (IDC) Worldwide Quarterly Disk Storage Systems Tracker for the third quarter of 2015.