Manchester 'wins' £10m to test talking bus stops
The aim is to become a 'world leader' in smart city technology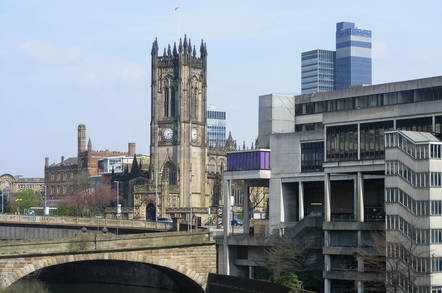 Manchester has been given £10m in order to become a world leader in "smart city" technology.
The money had been awarded to Manchester before 22 other groups, in what was billed as a competition - and comes from a £40m pot established by the government to invest in the Internet of Things. It was handed out by the Department for Culture, Media and Sport's CityVerve Project.
Digital Economy Minister Ed Vaizey said: "The Manchester project will help the UK to be a world leader in the adoption of Internet of Things technologies and inspire others around the world to create smarter cities."
Plans for the former industrial metropolis include creating bus stops which will talk to commuters, potentially informing them of the best buses to take to avoid congestion issue, as well as "a network of sensors in parks and along commuter routes to encourage people to do more physical activity."
"People will check-in to their bus stop and let bus operators know they are waiting for their service" apparently.
Among other elements in the project is a "biometric sensor network" which is intended to aid in the management of chronic respiratory conditions. Additionally, "Street furniture and connectivity infrastructure such as lamp posts and street cabinets on the Manchester Corridor will be used to monitor air quality at different heights and locations. Information will be passed to those with health conditions and made generally available to support walking options and routes."
The Manchester Corridor through-route will soon become bus and bike only. Bike sharing schemes can be expensive to install and maintain, and so an alternative is to use Internet of Things enabled bikes in a crowd-sourced and maintained, secure bike sharing service. It will also include "e-cargo" bikes to make "last-mile" deliveries on the Corridor.
On behalf of the CityVerve consortium, Sir Richard Leese, leader of Manchester City Council, said: "Our plans are firmly focussed on creating the conditions for economic growth and helping connect people with the opportunities created - whether that's helping them to monitor their own health to help avoid preventable illness or giving them improving transport information to help them move around the city more easily." ®