Pure Storage flashes post-IPO results: Get a load of our... revenues
Dietzen as pleased as punch. Don't mention the losses though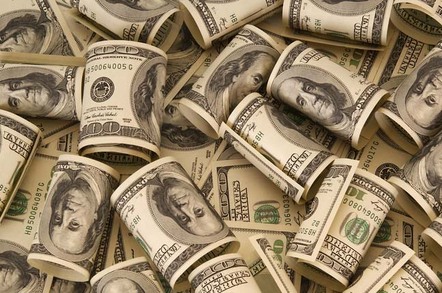 All-flash array startup Pure Storage enjoyed a pretty good first post-IPO quarter, with triple-digit annual growth, a double-digit sequential revenue rise, and lessening losses, as it secured hundreds of new customers.
Revenues for its third fiscal 2016 quarter, ended 31 October, were $131.4m, beating analysts' estimates, with a GAAP net loss of $56.5m. A year ago, revenues were $49.2m, amounting to a 167 per cent growth on the year. The sequential revenue increase was an impressive 55.2 per cent.
Last year the third quarter net loss was $40m, so the loss deepened 41 per cent, although it was better than the second quarter's deficit of $63.8m.
Pure added more than 250 new customers in the quarter, including Domino's Pizza and The Boston Globe, and taking the total past 1,350.
"We had an outstanding third quarter including record revenue, gross margin and operating margin," said CEO Scott Dietzen. "None of our primary competitors are properly enabling customers to reap the benefits of flash and cloud, the biggest changes to the storage market in decades, as we are."
"We believe this is why others in the storage space are stumbling while we are growing," he added. How he must have enjoyed saying that.
The outlook for fourth quarter revenues is between $134m and $139m, $136.5m at the mid-point, meaning full-year revenues of $426.6m, a rise of 144.6 per cent over fiscal 2015.
Dietzen blogged that "for every $1 of initial product purchase, our top 25 customers on average spent more than $9 on new product purchases in the first 18 months following their initial purchase, up from $8 last quarter."
He said Pure will "invest aggressively in sales, marketing, support and our channel to maximise growth going forward". Pure said it ranks amongst the highest in customer satisfaction across the tech industry: its Net Promoter Score (NPS) is 79, higher than any other Enterprise Technology brand. The average NPS for B2B tech is 16.
The company is seemingly on a high. It's moved past Nimble Storage and it's going to be fascinating to see its ranking in the next Gartner AFA MQ. The company should have a top three position for sure at this rate.®
Sponsored: Minds Mastering Machines - Call for papers now open